Ethel Rodin v The Charabancs of Fire
Ethel Rodin consolidated their third position in the table beating The Charabancs of Fire by a comfortable 10 points.

Damian was in the losing squad at the Ladybarn Club and sends this report....
In the last league match of the season, there was some good news and some not so good news for the Charas. The good news was that we all scored at least one two pointer and so qualified for the team the next time we meet (funny how we've all done that since Megson's 'No two and you're out!' rule came into being). The not so good news is that we got trounced once again by our inveterate trouncers, Ethel Rodin (can't recall the last time we beat them). Ethel led in every single round by a handful of points but pulled ahead in the last two rounds to leave us standing. We can squawk about it as much as we like but the bottom line remains that they were the better team because they knew more answers than we did - on top of which they were the more effective conferrers. Roll on the cup competition and let us pray dear old Val Draper will bestow her blessings on us this year as munificently as she has done in the past! We can only wait and hope."
---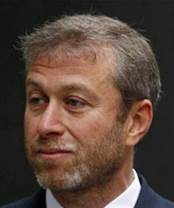 From Russian ducks to Chelsea dives
(R7/Q1)
---
The History Men v Albert
Meanwhile just around the corner from The Turnpike at the Red Lion, The History Men lost to Albert in another extremely close match.

Victorious skipper Mike 'The Paddle' O'Brien offers this....
At last a win, although it has to be said that our one point victory came courtesy of a very sporting concession by the History Men on the question concerning the darkness movement. Otherwise it would have been a tie which would still have been an improvement on our recent dismal run of form.

....whilst Ivor's view of proceedings was thus....
We failed to do the double over the Albert in a close fought but amiable quiz night against our old rivals. Both of us used to be contenders in the 2000s but tonight was a good lower table contest - and the Albert's victory ensures them a place in the Lowly Grail next season. We have had about 40 meetings over the years and it did seem like Groundhog Day. We had a four point lead at half time whittled away to a two point lead in the last round when the first blurts of the evening were our undoing. Ashton was MVP (the most twos); Jeremy continued in his permanent role as the Jonah (most unanswereds); Mike with his collection of artefacts (none needed tonight) skippered and Evelyn in the head-to-head with me with the last two questions proved the match-winner. Eveline had a two to win or a one to draw. She kept her nerve.
---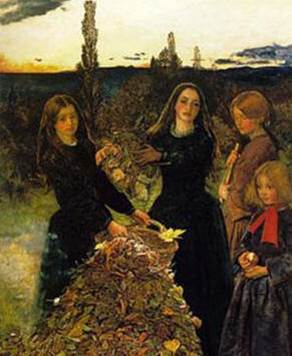 Millais' masterpiece
(R1/Q3)
---
Finally Mike H who QMed the evening adds this postscript....
Very good compilation of questions, and a very close, entertaining contest at the Red, which Eveline won on the last question.
Had it not been for a blurt by Anne on the Banana question, and a spot of generosity by myself in the QM chair on the 'turning out of non-essential lights' question when I allowed Albert to get the points for saying 'day' rather than 'hour', the result would have been a draw or more likely, a marginal victory by the History Men.
---
The Opsimaths v The Bards of Didsbury
The Opsimaths consolidated their position as fourth in the table by beating The Bards of Didsbury at the Albert Club by a mere one point margin.

Mike B reports
Interestingly our bogey team for a few years now have been The Charas and, of course, they managed a defeat at the hands of Ethel (see above). Had they won then the Opsimaths would have jumped a place to third in the final table. Thanks Charas!
---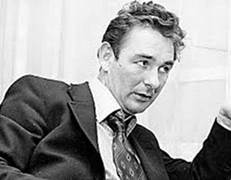 Old Bighead
(R1/Q1)
---
It was a jolly match. With neither of the teams having much at stake there was not a lot of tension. I QMed while Nick (back from Edinburgh), Howell, Brian and Hilary (on crutches but getting rapidly more mobile with her new knee) fought the good fight for the home team. Pitted against them on the opposition benches were the shadowy figures of Jim, Tom, Bernard and Lord Hammond of the Potteries (yes he did bring up the subject of PMT once more). Nick's return to the home team's line up was perhaps the crucial factor in such a narrow victory although it was Brian rather than Nick who dredged 'Eddington's Number' from the recesses of his brain to earn a crucial point. On the final question the Opsimath conference came up with David Tennant and clinched the vital point needed for victory.
---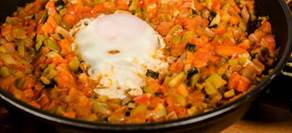 Spanish starter
(R6/Q5b)
---
The Electric Pigs v The Prodigals
A very welcome second win of the season for The Electric Pigs against The Prodigals.
Anne-Marie reports
Great fun in a very noisy Fletcher Moss - and surprisingly we finished by 10:35.
---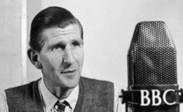 "There's no news today - so here's some music"
(R8/Q2)
Comp. Mantis Shrimps v Dunkin' Dönitz
At the Turnpike in deepest Withington this season's two standout teams served up a concoction to savour as Compulsory Mantis Shrimp tied with Dunkin' Dönitz in a thrilling head-to-head. A fitting result that means that the Dunkers retain their crown by two points at the top of the table. The tide of history has been held at bay for one more year.

Rachael sums up after a brilliant campaign by our youngest contenders...
After a very tense evening at The Turnpike, where there were never more than three points between our scores, we fittingly ended the evening with a tie. Very few steals were given all night and only two questions went unanswered. Dunkin' Donitz stayed calm and managed to avoid blurting while we tried for a few risky two-pointers (which we might not have attempted otherwise), because we knew we had to win by 4 points to secure the league title. Unfortunately, while some of our blurts paid off royally, a few didn't. Congratulations to the excellent Dunkers on another well-deserved title. We are very much looking forward to another season in this wonderful league.

Somewhat more expansively - as you might imagine - Kieran waxes thus....
'Multa parum fabricabimus' - 'We build much on little' (Google-translated by Barry in the aftermath of maybe the greatest quiz game we have played in all our twenty seven seasons).
First off the result was the only one appropriate to the evening. Both teams playing at the absolute peak of their abilities with the title on the line, desperately aware that the slightest error could see seven month's work slip away in thirty seconds. And we did wonder if, had we lost by two points, we could accept a drink off our marvellous hosts and then toast a title triumph. That would have been a bit caddish frankly.
---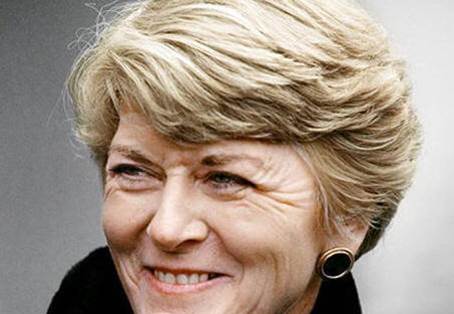 Mondale's Mate
(R2/Q2)
---
We weren't Arsenal going to the theatre of bricks, smashed windows and mob violence in 1989 because it was the Shrimp who needed to win by a specific margin - but in all other respects it felt just like that magical night. In keeping with the analogy and with everything that has happened since October 4th, it was number 1,150 of an 1,152 question season before the destination of the title was decided. It was David's question about the 1 09 race that had Wizard as its inaugural winner - but there was no DELAHUNTYYYYYYYYYYY moment. Instead Barry and I channelled Alan Smith and Michael Thomas, and, after what seemed a lifetime's agony and having dismissed the Grand National, Cheltenham Gold Cup, Lincoln handicap, St. Leger, Derby, America's Cup and anything to do with steam trains, we settled on the 2,000 Guineas. Martin and David were just spectators at this point and it felt as if it took me minutes to voice the short three word answer and even longer before it was called as correct and the title winning point awarded - the Donutz one ahead with only three on the table for the Shrimp. Cue an explosion of joy and relief from our table followed very quickly by an apology to our opponents for overexuberant celebrations. But the Shrimp were as magnificent in defeat as they had been all evening during the match and they heartily congratulated us which was way more than decent of them. I hope I would have had as much grace had the situation been reversed.
'Multa parum fabricabimus'. And boy did we - all night, as we have all season. 'A Guy Called Gerald' in Round One, 'The Open' and the 'Old Vicarage, Grantchester' in Round 4, 'Wapping' in Round 5, 'Galloway and Alloway' in Round 6, 'Courage' for a priceless bonus in Round 7 and, as mentioned, the '2,000 Guineas' in the last round all worked out - not guessed - after a huge amount of conferring and all our experience brought to bear to secure points on the way to retaining the title. And of course spectacular twos: 'TED' in Round 7 (David), 'Keith Michell' in Round 2 (Barry), 'Grand Theft Auto' in Round 5 (Martin) and, blowing my own trumpet, 'David Leadbetter' from me in Round 2.
---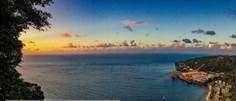 Flying Fish Cove - just the place for a midwinter break
(R7/Q5)
---
As seems to be the case every week we were outscored on twos (16-10) but steals were always going to be key and we got five of those, only giving up one to the Shrimp all evening. And we got 19 one-point conferred answers to our hosts 11. If I haven't mentioned it before this is how we win matches.
For the statistically constipated among you the end of round scores were (Shrimp score first): 6-6, 11-13, 19-19, 23-23, 30-27, 34-33, 40-38 and ending at 44-44.
At the business end of the evening Shrimps Richard and Rachael went through every kind of agony on their own questions, knowing that they had to go for twos to try to build a lead over us and apologising to their team mates in advance should they be wrong. Of course they kept on pulling out two after two so that we could never feel secure. On our part we had to keep minimising the damage with those 'team effort' answers. One thing I was very pleased with was that we scored on all but one of the first questions (which were Barry's) in each round so we never let the Shrimp build any momentum and put us under pressure to have to try long shots.
What a night, what a season, what a completely brilliant way to spend Wednesday evenings all through winter with nine other teams of harmless obsessives.
Thanks to you all for your fantastic efforts in question-setting, for the challenge you brought to us keeping our brains just about functioning as we approach retirement and most of all for your excellent humour and your company. Thanks especially to Tom, James, Richard and Rachael for an evening none of us will ever forget and for putting us under the greatest pressure I've known in nearly thirty years of this silly but addictive and wonderful pastime.
'Multa parum fabricabimus'. Yes we do and we are very proud that we can still do so. 'The season comes down to these moments now' as the great Mike Ingham once said, and having lived through it I'd like to quote another great who is a hero of mine: 'Please God, never this way again' - Vincent Kompany, 13.05.2012.
Wow, thank you and goodnight."
Finally minutes after the match finished James from the Shrimp sent his thoughts on a thrilling evening....
"It was an amazing match. We played very well and Dönitz were just as good. The match was really even throughout; there was never more than 3 points in it after any of the rounds. We were 2 points ahead going into the final round, but the Dunkers were just too strong at the end.
It doesn't feel completely like it right now, but the match was tremendous fun to play and was played in the best of spirits. Can you congratulate Dönitz for me once again? The league table doesn't lie. They have been a fantastic team for so long now, and the best team won the title.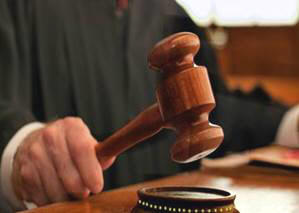 Quiz paper set by...
Guest (Mike Wagstaffe)
Average aggregate 74.2
We are lucky to have some really good friends in the Stockport League and tonight one of them, Mike Wagstaffe, served up the perfect paper on which to end our league season. Of the five matches one was tied, two were decided by one point margins, and one by a three point margin.
On top of which Mike managed to serve up a new format which everyone seemed to enjoy in Round 6 with the 'Take A Letter' Round (two part questions where the answer to the second part is the same as the answer to the first part minus one letter).
---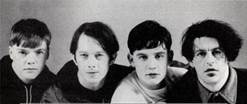 For the benefit of The Opsis and The Bards this is In Yer Face
(R1/Q4)
---
At the Albert Club there was a bit of a dip in the middle of Round One when none of the 8 players had heard of either the Manchester bands in the two answers, nor those in the questions, nor the hits they were alleged to have produced. After that misleading portent everything went swimmingly well.
Favourite questions? Well the George Best quote in Round One earned a guffaw (what a loss to the chat show circuit he was) and the size-related area of Tower Hamlets with all the famous pubs in was perhaps the nicest penny-drop question of the night.
What did others make of the paper?
Euphoric Kieran from The Turnpike....
"Many, many thanks to Mike Wagstaffe for producing such a brilliant, fair, competitive paper. Four of the five games were decided by three points or fewer and in our own match only two unanswered questions - both falling to us but tsk no one's arguing about that now."
---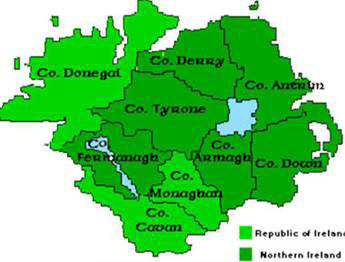 Ulster as opposed to NI
(R3/Q6)
---
....and from the same venue the slightly less euphoric James....
"....also, could you congratulate Mike Wagstaffe from me on producing such a fantastic quiz paper. A plethora of interesting questions, very well balanced and covering a great variety of subjects. I am biased of course, but it's always great to see a healthy number of very good science questions. It was definitely a quiz worthy of such an important match."
...and also Rachael....
"We enjoyed the paper greatly; lots of variety and some very tricky questions. Some of the pairs were a bit unbalanced but it evened out over all and made for a very fair and enjoyable paper."
Damian from the Ladybarn Club....
"Tonight's questions were the usual tour de force, containing a wide variety of head-scratching facts and figures courtesy of veteran Stockport quizzer, Mike Wagstaffe. They didn't quite manage to tick all of our boxes tonight but they often managed to dredge up knowledge long since buried in the deep and dark recesses of our ageing brains. Chara John and I shared quizzing duties tonight (he played in the first half, myself in the second) and both of us had to squirm in discomfort as we sat silently by when questions came up to which we knew the answer but couldn't contribute. In the end, we agreed that it wouldn't have made a great deal of difference to our overall score.
---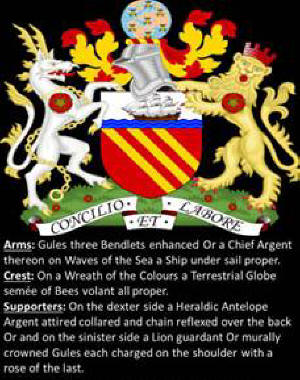 ...or just a pretty picture with a couple of silly animals
(R3/Q4)
---
Rounds of the Night? I think we all particularly enjoyed the 'Add a letter to get the answer' , 'Complete the threesome' and 'What happened on 18th April' rounds the most."
Ivor from the Red....
"Only five unanswered questions, though only 16 twos; this was a quiz where conferring was the best approach. Mike W from the Stockport league was the setter and he has really got the feel for what makes a Withington Quiz, no doubt helped by his many victories as a member of the Reivers team at Mike B's monthly Monday quizzes. Good themes for us old-timers and plenty of tip-of-tongue answers."
....and finally Mike O'B from the opposite camp at the Red....
"The paper was very fair with few unanswered questions and plenty of conferring. We liked the 'size' round - especially the questions about the district in the East End of London and the manufacturing activity in Liverpool."
---
Question of the Week
...nominated by Albert
goes to Round 5 (the 'Size Matters' round) Question 7:
"Made from the zinc-aluminium alloy Zamac, what were produced at a factory in Binns Road, Liverpool from 1934 to 1979?"
For the answer to this and all the week's other questions click here.
---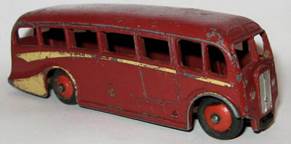 A broken down old chara made in Liverpool
(R5/Q7)
---
...and also
Next week we stage the finals of this season's WIST Champions Cup and Lowly Grail competitions. Greg Spiller (of Smart Italics in Stockport and Ethel Rodin in WithQuiz) is our setter this time round - many thanks, Greg.
Papers will be available from behind the bar at the Red Lion as usual and could the WithQuiz teams involved (Dunkin' Dönitz and The Bards) both please take responsibility for collecting the papers?
I believe matches will be at The Alexandra Hotel in Edgeley (Champions Cup) and at the Parrswood Hotel (Lowly Grail). Try and get along to support your WithQuiz finalists.
---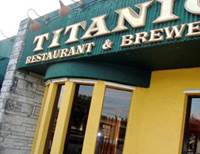 A Potteries picture for Tony
(R5/Q6)
---