LEAGUE DISPATCH
So there we are. Another League campaign put to bed. What of it? Well first of all the facts as laid out in the end of season league table: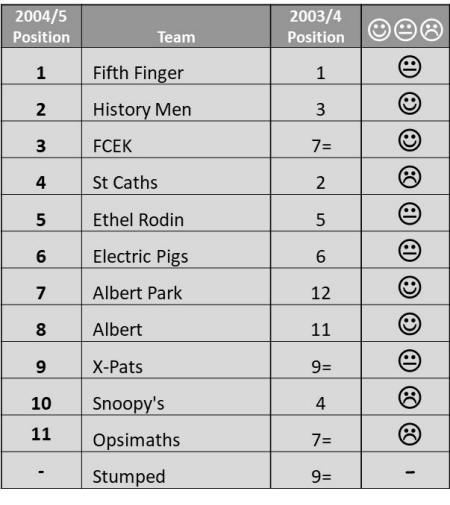 On the Happyometer FCEK, Albert Park and Albert are beaming, with the History Men quietly pleased at edging ever nearer the pinnacle. Snoopy's, however, and my own dear Opsimaths, are as miserable as sin. By the same token St Caths are a bit miffed and the Fingers, Ethel, the Pigs and the X-Pats are exhausted from a full season when they got nowhere.

Looking at the final

League Table it's interesting to note that we have ended with an average aggregate per contest of almost exactly 70 points (i.e. 35 per side). Put another way that means on an average evening, an average quizzer playing for an average team might answer 2 questions on his/her own and participate in 19 successful team conferences whilst 10 of the 64 questions stump both individual and team efforts by both sides.

My own view on the standard of the papers (on which so much depends) was that they were even more fun that last year - barring a few notable exceptions. I can't remember a bingo paper this year so that is one change ("for the better" I can hear Mike H saying). But the advance of the themed round is growing apace. Fine, but getting the theme to enhance rather than destroy a set of questions requires editorial skill. My overriding thought in this area, however, is relief that we do not get our papers from a standard (and thus inevitably homogenised) source. Should we ever opt to stop setting for ourselves and buy the questions in, I think I would hang up my brain as far as Wednesdays are concerned (OK, I know what you're saying to yourselves!).

Highlights for me? Well, the

outbreak of limericks at Roisin's expense was a wonderful diversion mid-season. And the 'Rough Guide to Ladybarn' at the start of the season from Fr M was as fine a piece of travel writing as I can remember. I believe the streets of Nether Fallowfield have been thronging with Chinese tourists ever since looking for Lobinsons. Who knows next year may be the Year of the White Swan with so many of our teams seeking this upmarket watering hole as a venue for their intellectual endeavours.

On the field of play the History Men provided plenty of evidence that they are ready to topple the mighty Fingers and this, even now, provides some appetite for the 2005/6 campaign. The game of the season as far as I'm concerned was the

daring FCEK raid on fortress Griffin at the start of December. It was an electric atmosphere for an extremely close encounter played in the best spirit - and with some real good craic after.

On the down side, of course, the collapse of the Opsimaths' form weighs heavily. Yet we almost won at least half of the games we lost (if you see what I mean). I think we are just becoming too careless in our answering techniques and too forgetful in old age. Watch out Fingers! Sooner or later Martin will start saying "I'm sure I used to know that, you know!"

All in all it's still a great way to spend winter Wednesday evenings and I'll be fighting tooth and nail next October to get the Opsies back to their rightful mid-table position.

I'm aware that the above is a little Mike-Bath-centric so why don't you just email me a few observations from your own, or your team's, point of view on the 2004/5 season. Highlights, lowlights, funny happenstances, or even lofty pronouncements. I'll publish anything you send over the next few weeks on this page. It'll be a sort of warm up for the end of season evening in May. Whilst in the meantime....

~~~~~~~~~~~~~~~~~~~~~~~~~~~~~

......CUP HATCH

Gary has done his bit. The Cup draw is to be found on the Fixtures page.

This year we have opted for a simpler format with no Plate competition and the Cup Rounds stretching over 5 weeks.

We will take a week's break for the Easter Hols and then start the Cup on Wednesday April 6th.

All this means that the End of Season Presentation get together will be at the Albert Club on Wednesday May 11th. Get it in your diaries NOW!!