A Chairde,
A significant number of you rabble out there have been asking if Fr Megson was over in Ireland recently to attend the Fr Ted memorial synod on Inis Mor (aka Craggy Island). My considered response to this enquiry would be "feck off and mind your own feckin' business". I will however say that it ill behoves the Catholic hierarchy of Mayo not to, at least, give The Reeks' most successful missionary in Godless Sassana the chance to turn down an invitation to such a bash. If the invite does eventually turn up without a stamp on it I shall be quick to let them know that wild horses couldn't have dragged me there even if the booze was free. When you've seen one pub full of smoking nuns and legless priests running around shouting "feck" and "arse" you've seen them all.
Mind you, I might have quite enjoyed joining the crush in the community hall to witness the "Loveliest Girl With the Loveliest Bottom" competition which followed hard on from the cleaning fluids drinks reception which was named in honour of Fr Jack's favourite tipple. He's an awful hoor, that same Fr Jack. A total disgrace to the cloth - but you could never accuse the man of being a hypocrite - not like some of them boyos in the Vatican.
Any wise dictator will tell you that the trick of staying in power is to stay at home. Fr Megson has been slow to learn this lesson and once again he faces the order of the boot on his return. Holding the Napier Girls to a one point margin and winning a game counts as a winning streak for 2 FCEKs this season and Fr M might well have to be content with joining Sheila in the car outside the White Swan for the remainder of the campaign. Could be a lot worse though - just imagine if Sheila liked quizzes and you had to spend the evening reclining with Howell in a steamed up Trabant with his size 12 steel tipped wellies poking into your ribs. Mind you, he's not bad looking for a man of his age, I suppose........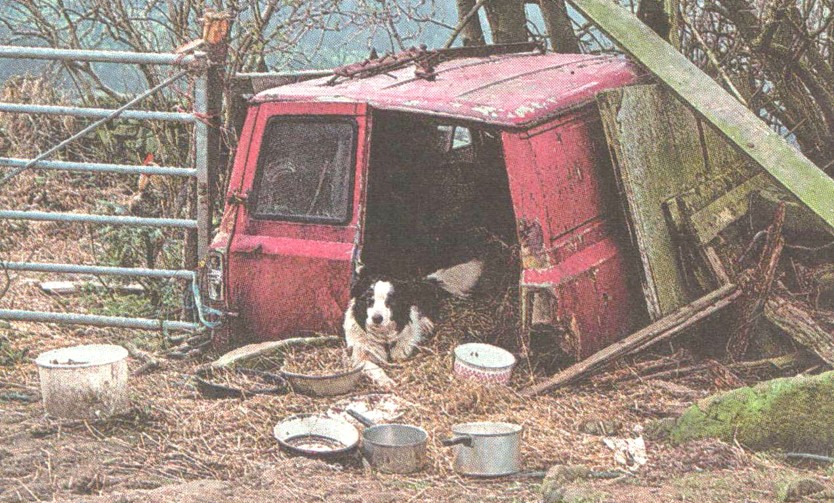 I'll leave you with a picture of Fr M's country home in the Reeks. It used to be a mobile home before the wheels fell off in the early 60s. I never did get the dog's name. He just breezed in one morning, licked my face twice, yelped once - I think my beard must have hurt his tongue - and then he was gone.
The world would be a far better place if there were more friendly, enigmatic dogs around.
Slan,
Fr. Megson