Several of our listeners gleefully hurled buckets of night soil into the WithQuiz studios last Wednesday night in protest at the outsourcing of the first quizset of the season to a bunch of unknowns called the Getaways. The Bishop of Bath without Wells points out, however, that many of the Getaways have in fact played several games in our Quiz league in various guises, albeit under cover of darkness. Indeed he can recall one famous occasion when they actually came away with both points after four players from the opposition, Amboß, had been sent off for substance abuse in the first half.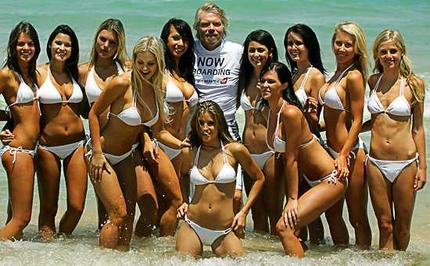 Getaway Richard (back row, centre) cheerfully gives bitter rivals, the Napier Girls, some useful advice on how to identify landlocked countries
Anyway, for the benefit of any of you too young or too inebriated to remember meeting them, here are some brief pen pictures of four of them - not the brainiest four, I admit, but perhaps the four that would be best avoided on a dark night in Parrswood.
CLIVE
in 1946 Woman's Realm predicted that young Clive would be "bigger than Mrs Miniver" - but then his mum splashed out the best part of a tanner to have his golden tresses lopped off and he disappeared forever from the women's problem page. Later he announced that he wished to become a thespian. This turned out to be nothing more than an unfortunate typographical error, though he did receive rave reviews for his performance in the 1962 Gorton library production of A Midsummer Night's Dream. In the Observer Kenneth Tynan noted that he had been greatly touched by Clive's Bottom, and that he looked forward to seeing it run and run in London's West End. It is perhaps this incident that Tynan had in mind when he went on to utter the first four-letter word ever broadcast on the BBC. In his heyday Clive was very much the Lord Byron of the quiz world - mad, bad and unlikely to know. Today he lives quietly in a two bedroom chateau on the banks of the Mersey where he cultivates award-winning marrows, his memories and a growing sense of worldly ennui.
MARK
The only member of the team to have been given the name Stibium at birth, he renounced this title after his first day at primary school when he came home still friendless. In retaliation his parents barred him from using the name Bassett and from spending any of the sizeable family fortune accrued from their liquorice mines in Uruguay. In retaliation against their retaliation he announced that he was going to his room. Furthermore, he would henceforth be known as Mark and would never grow up. True to his word he still plays quizzes with the boyish enthusiasm of a 12 year old. Mark adds:
"I love quizzes. Quizzes are brill. I could spend all night playing quizzes. Sometimes I do spend all night playing quizzes. It's brill! I hate people wot hate quizzes. Especially people wot hate quizzes just 'cos they don't know nothing. I don't never give up even when I don't know nothing. I remember one night they asked me a stinker. Name the capital of Belgium? Obviously I hadn't a clue 'cos I wasn't even born in bleedin' Belgium but I gave it a go anyway. Using my skill and judgment I went for Tintinville. It was wrong…..but only just. I wasn't put off. I guessed and guessed. and then on guess number 54 - bingo! I'll never forget that moment of epiphany. It came just as the opposition were on their final question of the evening which was 'Which city is renowned for its flavoursome sprouts' and I said 'is it perhaps Brussels?'. We lost narrowly by one point that evening and nobody spoke to me for the rest of the season. but I still love quizzes. I think quizzes are brill. PS I think Curb Your Enthusiasm is a very silly name for a TV programme."
DAVE
Today Dave is an icon of the quiz world and is freely available on desktops all over Ladybarn - but in the early days he was largely unknown. Then, in a last ditch effort to revive his career, he turned to TV and became the first seven year old to win a million guineas (a sizeable sum in those days) and a Meccano set on Junior Criss Cross Quiz. Shortly after that he was persuaded to turn professional and the rest is history.
Despite his stardom Dave remains as unassuming as ever. Indeed, if it wasn't for his distinctive vocal chords (which helped him pick up an Olympic bronze in the Men's Boom in Helsinki in 1952) and his tactile habit of bear hugging everyone within a forty yard radius (he was once mistakenly yellow-carded for heavy petting with the opposition) you would hardly know that he was in the room. In 2005 he broke Pope John Paul's world record for shaking hands with the most people on their way back from the toilet.
Today Dave eschews the razzamatazz of TV quiz shows and divides his time between leafy Ladybarn and the taproom of the Red Lion where he does regular Harry Belafonte tribute evenings. In his spare time he likes listening to music ("anything by Rambling Sid Rumpole really") and watching ladyboys play football. He hopes one day to be rich enough to buy Man City FC and to steer them to their rightful place in the Beswick and District B Division League.
RICHARD
(extracts from a recent interview first published in the Guardian Weekend Magazine)
Q: Full name?
A: Richard Brinsley Sheridan Schwarz.
Q: Really?
A: No.
Q: Which living person do you most admire?
A: Mike Bath.
Q: Really?
A: No.
Q: Who would you like to share your desert island with, Paris Hilton
or Simone de Beauvoir?
A: Angelika Merkel.
Q: Really?
A: No. Let's cut the crap ok? Why isn't Bjork on this menu? I saw
her once, you know, in Iceland. She was buying fish fingers and so was I. It's nice to have things in common.
Q: Who is your favourite playwright?
A: ..........(long pause).................................Pinto.
Q: Don't you mean Pinter?
A: ................(long menacing pause)............maybe................why
must you always contradict me?...........(very menacing pause.)............Merde!.................
Q: If you could only have one wish, what would you wish for?
A: A monkey's paw.
Q: Really? Why a monkey's paw?
A: Don't know. I suppose I had to say something and a monkey's
paw just sort of floated through the ether...you can have it back if it's that important. But really, you shouldn't promise things and then take them back. It's very hurtful. How can I trust you in future. Bjork would never do that.
Q: This interview isn't really going very well, is it?
A: Don't know. Anyway you're the one that keeps asking the
questions about sex. Why can't you just let me walk my dog in peace?
Q: Don't you start asking me questions, buster. I'm the bleedin'
journalist around here. If you want to start asking questions why don't you just pi** off back to your little boys' quiz league?
A: You're very feisty aren't you? I like that. It's how I imagine Bjork
would be. How's about if we lose the dog and then maybe I can walk you back to your place? You can call me Brinsley if you want.
Q: ....(pulse racing but trying to sound calm).....really?
A: No.