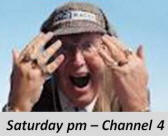 This week the paper was set by Ethel Rodin. An excellent effort delivered in the Albert Club by the product of Ethel's youth policy, James. Great themes and a general tip-of-the-tonguery that made for a most enjoyable evening. Howell tells me that there are quite a few more types of terrier on the Wikipedia page that lists such matters so we should be alright for a few more rounds on this theme over the coming weeks. Perhaps setters (ho! ho!) should just state up front which round is the terrier round. Favourite moment of the evening (apart, of course, from the declaration of the final score) was the Fairies suggestion in Round 2 that "A large potato yellow within and without, and used for feeding livestock" might have been Eric Pickles.
Ethel get plaudits from Gary Pig as well. His reasoning relates to the QotW (see below)......Connections get the grey matter working, when for a straight up and down, common or garden question, if you don't know the answer that's it.
Ivor's assessment from the Red:
Roddy and his setting colleague were in attendance and although the quiz was hard there were lots of interesting teasers (though we hope we have now exhausted all possible questions about Warlock/Heseltine). There was an awful lot of cogitation and, as our QM is too gentlemanly to hurry people, we had a late finish.

Wrong answer of the evening? The Historymen's combined reply to the 1900 music hall song question (when body parts were still thought to be the theme).......Fanny By Gaslight.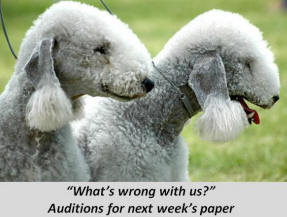 .......and Anne-Marie's verdict?
A thoroughly enjoyable evening. A great quiz with lots of twists and turns and some very clever trickery. Really loved the tic-tac round. The delight on Danny's face when he discovered the theme on question 7 - and then the pain etched on his face when wracking his brain to work out the names of the odds. Danny – Dad would have been very proud of your betting knowledge!
Hangman Dave loved the paper - but:
May I just add that while it was a hugely enjoyable evening I was personally disappointed to discover that Megson of the Maquis was not a revered Resistance leader, and The Briton's Protection is not a variety of potato.
Damian gives the Charas take on the paper:
Plenty of themes on offer which we mostly managed to work out although some of them were cleverly disguised, a bit too heavily for our comfort. Mention of dreadnoughts soon sent QM Eric off into another spate of wartime reveries. Did any man ever enjoy a war as much as Eric? Not content with that he informed us that he was the only man to ride a horse from one end of the Falkland Islands to the other without even bothering to stop in Port Stanley! It's no bloody wonder the Argies were provoked into invading!!