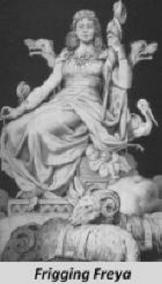 A 3-headed Albert couldn't quite keep up with the Opsimaths in a low-scoring match at the Fletcher Moss.
Before the match started I was happily chatting to Eveline, with her usual VAT, and Mary with her traditional pint, when in breezed the young O'Briens looking for all the world as if they'd just cycled through the lanes and alleyways of some great university city hurrying from a late finishing History lecture anxious not to miss the University Challenge rehearsal. Once they'd offloaded their scarves and duffle coats, and Mike had been despatched to the bar, Mary opened her bag and pulled out..........'Mr Britvic'. Mr Britvic goes everywhere with the Albert team - he is the team mascot. He was carefully placed on the edge of the Albert team's communal table to spend the evening glowering at the opposition. By 10.30pm having singularly failed in his duties he was popped back into Mary's bag and carted off to the O'Brien digs where, no doubt, he'll undergo a stiff talking to before being wheeled out next Wednesday.
The Smoke Fairies keep their 'Runners up' status intact with a home victory over the Charabancs. Damian offers his observations:
The Charas fall back to Earth with a bump after their recent run of good form. Two successive losses for us now. At every stage we tried to play catch-up with the Fairies but could never quite make it. They just proved to be much more experienced scandalmongers and gossips than we could ever hope to be. I will be rushing out to order my subscription for Heat Magazine first thing in the morning!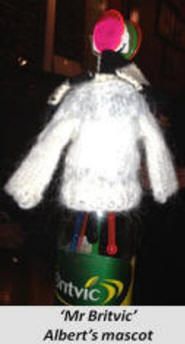 The Bards confirmed their 'Champions' status with a comfortable home victory over Ethel Rodin. Tony reports from the celebratory Cricket Club:
Apologies for the late match report but it took some time to recover from the mass celebration caused by the Bards finally attaining a mathematically unassailable lead at the top of the table. It was a funny old quiz. Although we thrived on gossip we suffered at least one round where we didn't score a point. The lead swung about a bit but by half time we were 18-10 up. The second half was a repeat of the first scorewise hence the final score of 36-20. There was a lot to discuss in every question, or so it seemed, so Steve and Jim had to sprint for their bus almost before the finish denying us the opportunity of a quickfire round of Merseyside questions. Those that stayed on enjoyed some pleasant exchanges of view on a variety of topics over a convivial pint or three before we had to pour Eric into his carriage complete with team photos of Ethel to add to his rogues' gallery of Quizzers. BTW we did enjoy the pick your own quiz team round. There is probably a book to be written why each of us chose the team we did. I went for the Fairies and was rewarded with yet another bloody elf.
The Historymen just got the better of the Compulsory Meat Raffle. Ivor sums up:
Another near miss for CMR who have been improving all season. Although we were never behind, we never got more than two points ahead so this was one of the most competitive games of the season. Of course it was a 'must win' game for the HM as it's our last of the league campaign and it sets things up nicely for the struggle for fourth place and the chance to get into 'Europe' next season. I was in the QM seat tonight but it's hard to remain disinterested when one's team seem to plump for the wrong answer from a choice of two (I can now empathise with Jitka and her reaction when one of the Opsimaths blurts).
TMTCH lost at home to the Electric Pigs. Andrew reports:
A really enjoyable evening against the league's most sporting team. A standout moment came when - with the scores delicately poised - Dave allowed the Pigs 2 points for their Scandinavian version of Frigga.
whilst Hangman Graham comments.....
Against the background of the England v Holland game (no sound I hasten to add, unusual for a Wednesday at the Parrswood), The Men They Couldn't Hang were dealt a knockout blow every bit as shocking as the one suffered by Chris Smalling. There was jovial entertainment all around - although we thought, having lost the toss, we were denied the better pictures. I bet that thirteen year old David Jones never thought he'd end up with Imam. Frigga Hell! P.S. Hopefully the Bards will be so drunk with their own success that we'll give them a thrashing next Wednesday.