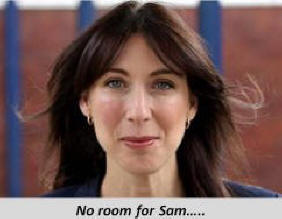 Electric Pigs lost to the Smoke Fairies but, according to Andrew there were plenty of laughs along the way. Kieran puts yet another titleless season to bed for the Fairies with these wistful sentiments:
Very good end to the setting league season from The Historypeople. We signed off with a resounding win with our Stakhanovite QM Bob becoming an honorary Pig for the evening. Bob did well for our opponents but we had enough in hand to secure the runners up spot - again! Mike, now that the Opsimaths have finished outside the top two (and when did that last happen?) will you have to pre-qualify for next season's WIST by playing off against some lower achievers from Droylsden or Flixton perhaps? (Ed: Have you heard of hubris, Kieran?)

Question of the week was undoubtedly the computer TWAIN business, which Barry got word perfect. Who would have thought geeks had such a sense of humour? (No I don't mean Barry is a geek - then again......)

Outrageous prediction of the week was David foreseeing that the Gothic question in the pick your subject round would contain some reference to The Sisters Of Mercy. Martin duly nailed the two points but claimed he would have got there without David's inspiration anyway.

Confused scratching of heads moment was discovering that the Jesuits (presumably all of them that were extant in the 16th century) were in the frame for the Bard's oeuvre.

Speaking of the Bards, once again congratulations to them. Still hoping that Tony & co's profligacy might see them deducted 10 points before their victory is ratified. I saw his Honour buying Jameson's in Tesco's on Saturday evening and talking of bringing champagne to the Cricket Club this evening. Somehow I think his pockets might just be deep enough to stand the odd bottle of Bolly.

Bards, many congratulations. A thoroughly deserved title and you set a standard that we simply couldn't match. Mike and the Opsimaths, this is how it feels to see your title wrenched away from you by a better team. And to everyone else, to misquote Eunice Kennedy's soon to be former son-in-law: "We'll be back!"
Compulsory Meat Raffle, featuring one of Manchester University's winning University Challenge semi final team (Mike McKenna)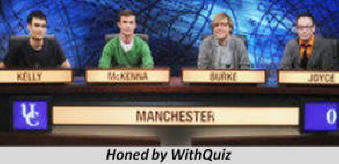 were steamrollered by an Opsimaths team anxious to end their year as reigning league champions with a resounding victory and their first 50+ score of the season.
Bards came from behind to edge past the The Men They Couldn't Hang in a relatively low-scoring match at the Cricket Club. Tony reports from the Gasholder end:
We had a great evening with the Hangmen. They are always the best of opponents. Steve has a lurgy and so had to boycott the occasion. The Hangmen had the better of us for the first five rounds and it looked like the best we could hope for was a draw. Happily we kept our nerve and I remembered the Duke of Albuquerque not to mention the Earl of Oxford's flatulence and we were able to draw level by round 6 and then edge a close win. We refused to buy the gallant losers a pint or three but instead forced them (and Ivor and James who came along later) to join us in an end of season glass of champagne.
....and from the same match Graham sums up for the Hangmen:
The Hangers were once again undone by questions of the 'Pick Your Own' variety. The damage could have been done far earlier, however, as we persuaded ourselves that the answer to the Baudelaire/Charlie & the Chocolate Factory question was 'Veruca', thinking we were letting ourselves into a chiropody-themed round. One for next season maybe? All in all a great time had by all, and we can't wait to see the snaps Eric. (Ed: see below, Graham)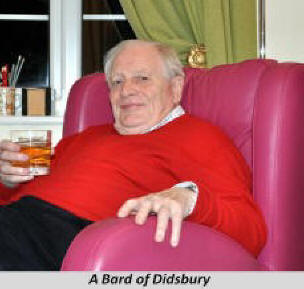 Ethel Rodin lost their final home match to the Albert who consequently leapfrog them up the table to finish in 6th place. Mary writes in:
We played in the main bar tonight as the Bards were also playing at the Cricket Club. Proceedings were in the very capable hands of guest QM, Ivor. We thought it was a pretty well balanced quiz with a good mix of question subjects - although Eveline, with her usual aversion to making decisions demanded that Michael made the choices for her in Rounds 7 and 8. Ashton had a very good night with 5 2s - again falling victim to having to choose his own fate in rounds 7 and 8. We just don't like making decisions!
Prodigals just lost out to the Charabancs of Fire in a close contest at the Albert Club. Damian's verdict:
A wonderful, nail-biting conclusion to the season for the Charas with yet another down-to-the-wire win against one of our favourite opponents, the Prodigals. For the entire first half, the Prods were ahead by one or two points. In the second half, roles were reversed but there was never more than a couple of points in it either way!