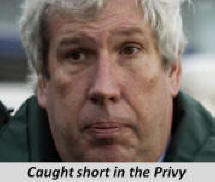 The Men They Couldn't Hang dropped the points at home to Albert.
The Bards and The Charabancs of Fire fought themselves to a standstill notching up the first tie of the season. Damian reports in from the visitors' corner:
"In the presence of Ivor and co, this was as exciting an encounter as it comes. Well, at least we thought so until QM Eric got bored handing out pictures in R6 and decided to show us his holiday snaps instead!

It was more or less level pegging until the Charas opened up a lead in the second half which we held on to until the dreaded James Bond-themed final round made its unwelcome appearance. As none of the Charas have anything more than the flimsiest acquaintance with Mr. Bond, we sat back expecting a drubbing at the hands of our more Bond-friendly opponents. But, as it happened, we managed a creditable 4 points to the Bards' 7 in that round thanks to some judicious guessing. As a result we managed to salvage an honourable tie - the first of the season."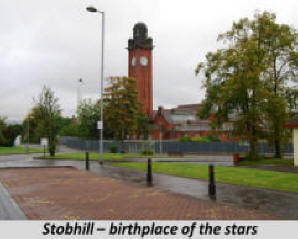 It seems that Stobhill hospital (Round 5 Question 7) was famous for reasons other than Richard Wilson's employment there.....it was the birthplace of Sinking The Bismarck star Eric von Gow (a.k.a. The Bards doughty QM). Eric writes:
"I took the photo on the right last month on a visit to Glasgow. First time I have been back to the hospital since I was born there. Wonder if Richard Wilson was working on test tube stuff? They subsequently made a film about how I was brought across the border - it was called Kidnapped. It was pretty spooky being able to show the hospital on my camera after asking the question!"
The Electric Pigs were just too good for the Prodigals at The Fletcher Moss though Andrew was unstinting in his praise for his guests' bonhomie.
Compulsory Meat Raffle couldn't shake I Blame the Smoke Fairies off their 100% record - Kieran's verdict.....
"Fairies were three winged tonight, David having taken his family to New York for the half term holiday. Oh dear, talk about bad timing, they could well have been transported to Western Pennsylvania, Lake Ontario or somewhere north of Toronto by now. Whatever, I don't think they're in Kansas anymore but I'm sure David will have some stories to tell when he gets back (probably in the new year).

Very decent quiz for our second week running at the Turnpike. We've spent almost as much on beer as we would in one half of a quiz in the Griffin.

We're very pleased with another convincing victory and maybe we're looking like title contenders at last. We particularly liked the Charlie and the Chocolate Factory / Death in Venice pair, but can't help feeling a bit sorry for our opponents since their youth means that they start at a serious disadvantage most Wednesdays. Still we're not about to hand the points back!

We used to be thought of as the young team in the league - that was quite a while ago now."
Opsimaths were just not good enough against Ethel Rodin whose tactics of deploying Geoff's silky OAP charms against QM Jitka, whilst the rest of the team worked out the answers, worked a treat.