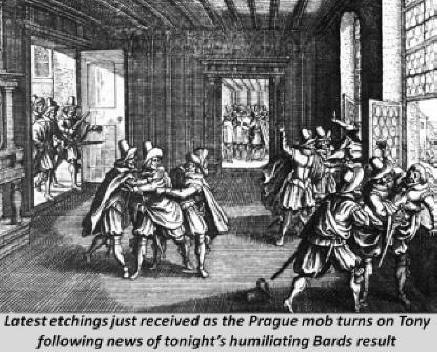 The History Men beat The Electric Pigs - though not without a wobble or two along the way. Ivor reports:
"Our matches with the Pigs are always close and when they started with only three players we thought we might have a comfortable evening. Far from it. After three rounds the Pigs were 6 points ahead. Fortunately, despite the arrival of Paul, we managed to rally in the second half."
Albert upset the form book by beating I Blame Smoke Fairies at the Fletcher Moss. Ashton from Albert tells the tale....
"A surprise 33-27 win over the Fairies at the Fletcher Moss. In fairness this owed much to the fact that our opponents played two short - and that the Hanukkah round could not have been better timed for our Jewish ringer playing in place of the holidaying Mike."
The Men They Couldn't Hang fought The Bards to a standstill with the match ending up a tie. Tony was away in Prague on

grandson duties so missed the excitement (note the open window in the latest picture from Prague to cross our newsdesk).
The Prodigals were far too good for a dismal bunch of Opsimaths. Egghead & Head Egg (Dave & Anne-Marie of course) just reeled out those popular culture answers leaving the old men reeling. So the fabled Orkney Dark trophy, awarded to the winner of the latest Albert Club derby, has another "Prodigals" on it. It was a most amicable encounter with loads of laughter - in stark contrast to the same encounter a year ago when the position of Sri Lanka between the southern tip of India and Malaysia almost caused a riot. Indeed amity was so rife at the end that a pair of Glennon sisters were seen chatting up young Howell until Ryan called last orders and broke up the assembly.
The Charabancs of Fire lost out to Ethel Rodin (now I could have lost a lot of money betting on Ethel to bomb on such a popular culture-fest). Damian sees it thus:
"In a seasonally laid-back pre-Christmas atmosphere at the Turnpike, the Charas couldn't manage to finish the first half of the season with a win. Ethel's a team that has often given us much trouble. Full marks to them. Highlight of the evening for us was Chara John getting into the festive atmosphere by actually drinking some beer, something he hasn't done since Sean last pulled a decent pint of beer at the dear old, late lamented White Swan and by 'eck, that's going back a few good years!"