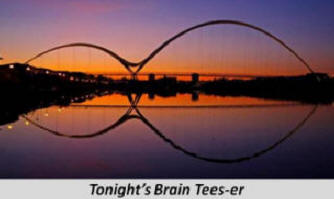 At the Cricket Club Ethel Rodin were too strong for TMTCH.
Compulsory Meat Raffle's trio couldn't keep up with The Opsimaths who were able to sub Brian at half time for a fresh pair of brain cells (me).
The History Men, despite the presence of occasional superstar, Anne, were pipped by I Blame Smoke Fairies at the Red. Kieran's view on behalf of the Travelling Fairies....
"Great, high scoring quiz, always tight with the lead changing hands three times. We were aided by a couple of trademark Historymen blurts (on Life of Pi and Flodden), but the unanswereds broke harshly against us by 2-1! As always an enjoyable evening in the company of the Historymen, rounded off superbly during the spares by Ivor insisting that the 'R' that is the hometown of the Dyslexia Institute must be Rexham!"
The Prodigals ran The Bards pretty close at the Club but couldn't quite open their legs and show their class in the final furlong. Tony's report on affairs...
"We, and our delightful, extremely cheerful, opponents had a very amicable evening - even if Ann Marie could not help whistling Colonel Bogey. We decided this did not amount to conferring and conceded the two points. At least Eric wasn't there tonight to sing about Hitler's pendular deficiency. Talking of Eric.... he is in danger of being eclipsed. Last week we had Peter's totally commendable, indeed exemplary, QMing; this week we had new recruit Ian asking the questions in a very professional, fair and entertaining fashion. I hope he comes back often. Back to the quiz. After an early spurt we fell back slightly and at the end of Round 3 we were behind. Anne-Marie kept asserting that all she wanted was to be past twenty. Well she has managed it and can now admit to being 35."
Anne-Marie reports...
"Closer than usual against The Bards but the difference was Bard Jim who was on fire this evening."
The Albert just edged it against The Electric Pigs at the Fletcher Moss. Mary reports:
"The Derby match at the Albert resulted in a win for The Albert 40 -37. The Pigs won the toss and went first, leading by one point at half time. It stayed pretty even in the second half with the scores 34 -34 going into the final round."