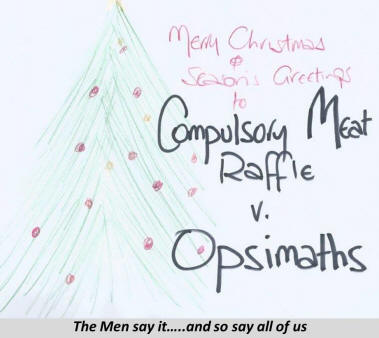 The paper this week was set by The Men They Couldn't Hang.
It was on the tougher end of the scale with an average aggregate of just 68.8 but, as is always the case with one of Dave's efforts, beautifully crafted and cleverly worded to entertain. The trouble is that, increasingly, such fine touches fall (literally) on deaf ears as our pubs get rowdier - or we get collectively harder of hearing. It seems that at both the Fletcher Moss and The Turnpike the QMs had their work cut out. My hope is that when Labour get back in next year and James' better half becomes Minister for Culture, the Media and Pub Quizzes there will be a Bill rapidly brought forward to prevent noise in pubs and clubs on Wednesdays (Thursdays in Stockport, of course). I will scour the manifesto when it becomes available and let you know. This could be a real differentiator between Labour and UKIP who, on the other hand, are known to favour noisy pubs with loudmouths proclaiming their zenophobic views to all who'll listen.
As ever Dave embellished the evening's paper with a lovingly hand drawn sketch on the envelope (see the image of the CMR v Opsimaths envelope accompanying these words); this time representing TMTCH's Christmas card to the league.
Perhaps the main area of criticism for tonight's paper is reflected in Anne-Marie's comment from the Prodigals v History Men match reported by Ivor above, namely that Dave does love his 'boy's toys' - this time parts of a gun rather than WW2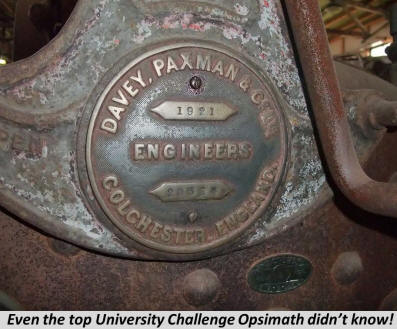 tanks or planes. Darlo and other NE football teams also got a good airing again tonight. As I've said on countless occasions before, however, it's the variety and personal idiosyncrasies of our setters that makes Wednesday evenings such a delight.
One practice I did notice Dave had adopted last night, which I think he hasn't previously.....When a themed round (Rounds 2 and 6 last night) depended on spotting a word that can precede or succeed another word ('play' and 'mark' in tonight's paper) then the theme word was declared at the start of the round. I think this makes good sense as with these types of link - more often than not - the theme is too hard to work out and the process of trying to get it overwhelms the rest of that round's worthy content.
What did the rest of you think?
Damian:
"Tonight's offering from the Hangmen, tackled at the Cricket Club in the presence of Hangman Dave himself, was full of the usual well-crafted and well-thought out topics and themes that Yours Truly would never think to set. But hey, that's just me! Well done to the Hangmen for their different and original take on what constitutes an interesting quiz.
QotW: In the absence of any consensus, I nominate the one about the Lancashire location for Disraeli's 'One Nation Speech'. If only I had had the courage to insist on the Free Trade Hall instead of agreeing to go along with Preston Guildhall!
Funniest AotW: Possibly my suggestion to the team in the round that required an
answer that could prefix the word 'marks'. When we were discussing what was the name missing from the Magnificent Seven character list we came up with a load of possible candidates one of which quite rung true. Eventually, and more in hope than expectation, I ventured the suggestion that he might have been called 'Skid'. Well, I tried!"
Ivor:
"We quite liked this paper which, as always for a TMTCH paper, was both interesting and challenging. The 'play' and 'marks' prefix rounds were very well thought out (in the latter case young David was waiting for the band fronted by Richard Jobson, The Skids, whilst I was anticipating Severe Combined Immuno-Deficiency or SCID syndrome.
Our nomination for QotW was the Jimmy Perry father quote. Although this was not his question Danny managed to work out the answer. Our 'close second' nomination would be the Trigger question."
....and finally James:
"We are sure a lot of effort went into setting this quiz, but I'm afraid many of the more carefully written questions ended up in frustrated nonchalance because of the ambient noise at the Fletcher Moss. Our nomination for QotW went to the Jimmy Perry father quote."