Goodbye
As I think most of you now know, our good friend Mary Jefford died during the summer. Mary had been QM for the Albert and the Electric Pigs teams for some time and was known and loved by all of us in the Quiz league.
A dozen or so from WithQuiz were at Altrincham Crematorium this Monday to say farewell. I know Mary's family much appreciated our presence - and hearing how fond we all were of Mary. Below are the front and back covers of the card used during the service....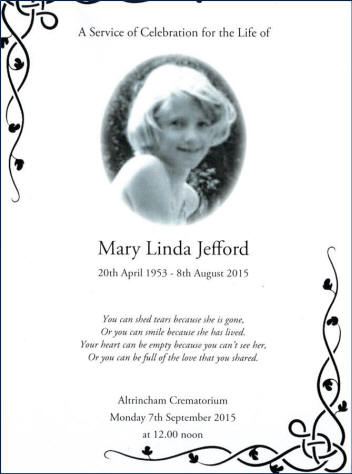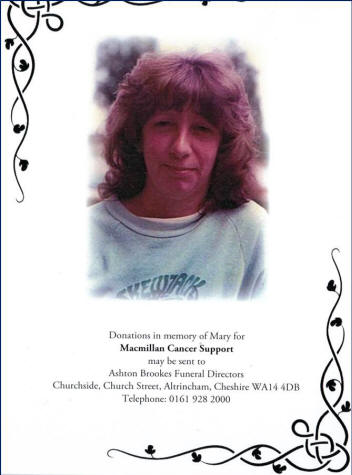 RIP Mary

& Hello

...again as we head off for the 2015/16 WithQuiz season.

The fixtures have been carefully computed by Roddy to provide some variation on last season (despite the fact that the same 11 teams are taking part) - and are now shown on the

Fixtures page. You will see that we start on Wednesday September 30th (a day earlier than last year) and that the Charas will set the tone by compiling the first paper. The only change to note is that the Compulsory Meat Raffle are henceforth to be known as Compulsory Mantis Shrimp. It seems that compulsion is the one common thread to Rachael's management approach. I have taken down the CMR team logo of a juicy joint of beef and await a mantis shrimp logo - whatever that is!

Can I urge all of you to check the contact details page carefully? I'm finding that emails to the addresses shown there are occasionally bounced. Please let me have the correct addresses if any of them are wrong.

This year WithQuiz has the burden of compiling the 3 papers required for the WIST Champions/A-Trophy match evenings. I will be asking for contributions in due course especially from those 3 teams not involved in the WIST matches (TMTCH, CMS and Electric Pigs please note).

During the summer I was out with the Charas in the Griffin and we got to discussing the quiz league. There was a strong view that we need to do something to get the matches finished earlier on Wednesday evenings. Suggestions included...
starting earlier (say 8.15pm or even 8pm)

encouraging setters to cut down on extraneous material in both question and answer text

getting QMs to limit the time taken by teams to come up with an answer - especially by a team receiving a handed-over question
Truth is that all of these approaches have been tried before and each has its drawbacks. Not everybody can get to their match earlier than 8.30pm. Well written material that embroiders the questions and answers can be delightful and occasionally become a memorable part of the evening. Asking QMs to play 'hardball' on timekeeping is not in the WithQuiz DNA.
So I'm left with falling back on a general appeal to team captains and QMs to do what they can to get matches done and dusted by 10.30pm.
Finally can I urge as many of you as possible to come along to the Albert Club on Thursday (note Thursday) September 17th for the annual Pre-season match between the WithQuiz League and the Stockport League. There will be 6-a-side and we'll ensure everyone gets some sort of match through half-time substitutions. I expect Tony to take the helm as captain and be pictured at around 10.30pm hoisting the trophy aloft (Stockport currently hold it, BTW). I have prepared the whole paper myself and will be the QM. For what I believe will be the first time, I have included a music round which will take advantage of the Club's PA system. There will be plenty of projected pictures as well.
Finally you're possibly wondering why the website looks just the same as ever when well over a year ago I said I'd get new software and generally make the site more user-friendly. I still intend to do this but somehow I keep finding other things to occupy me which provide an excuse not to get started. Hopefully this autumn/winter.....