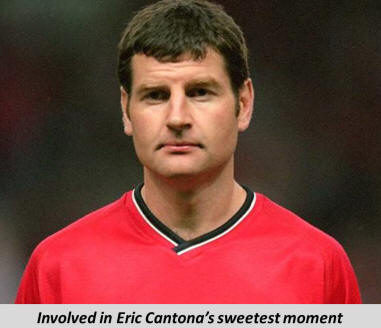 The Opsimaths lost to Compulsory Mantis Shrimp in the back lounge of the Albert Club. With my sudden descent yesterday into a raging temperature I took to my bed and had to cry off at the last minute leaving my Opsimaths colleagues three-handed - but that only evened things up since the Mantis Shrimp were three-handed as well.

Rachael sends this summary....

"After an extremely close quizzing evening we managed not to snatch defeat from the jaws of victory by maintaining our very slim lead throughout the second half, winning by the narrowest of margins.

We had a convivial evening as always in the company of the Opsimaths and, unusually for a quiz being held in the back room at the Albert Club, the enthusiastic ping pong players upstairs didn't sound like they were about to crash through the ceiling for once! Both teams were evenly matched (each being one player short) but I think we may have had a slight advantage with our questions!"

and Brian sends this....

"Not our best evening. Both teams reduced to three players. We won the toss, and sadly decided to go first, first. 8 unanswered to us, 4 to CMS. Plenty of music questions, most of which we struggled with, and Rachael dealt with quite easily. But it was the American Fame round what did for us, 9-3 for CMS. All three CMS players scored two's, and they got a couple of 'steals'. Ah well, as the French say 'Kest la vee'

The evening's fun was aided and abetted by the humour of our guest QM, Bob Ganley. Some longish questions and the need to confer the first questions of each round, threatened to make it a long evening, but it was all over by 10.30, leaving plenty of time for chatting afterwards. It is nice when opponents don't feel the need to rush away once the quiz is over."

The Men They Couldn't Hang lost to Albert.

Graham sends this cryptic message....

"Graham is in the doghouse. What ship was under the command of captain Fitzroy? Hispaniola. You could have heard the groans in the Griffin. Graham ignoring the fact that Captain Smollett commanded that ship, and that the voyage didn't take five year. How does it fit the theme of diamonds or dogs? Spaniel."

whilst the fifth member of Albert's team sends this....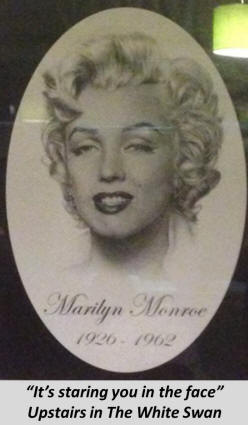 "OFFICIAL STATEMENT
I was disturbed to read of my death in the Quiz league page last week. It is true that I lost my nose but it is a disgusting rumour that this was due to a bout of syphilis. Neither have I replaced it with a silver replica. I expect to be back in action this week. Sincerely, P. O'Rebuke"
Ethel Rodin beat The Prodigals.
Anne-Marie sends this....
"Well that was an enjoyable quiz - well balanced and great themes. Not one duff question. Really close match - and once again we had the answer staring us in the face." (Picture of Marilyn Monroe on the wall upstairs in The White Swan)
The Electric Pigs lost to The Bards of Didsbury
Tony offers his verdict....
"It was noisy as ever in the Fletcher Moss but Andrew as QM was more than equal to the challenge. It turned out to be a close run thing against a team who are, for us, always very difficult opponents.
The evening began well enough for us and we built up a reasonable lead. The Pigs fought back and it was pretty level pegging for much of the game. The picture round nearly did for us and we scored a Norwege although the Pigs did little better. It came down to the last two questions of round 8. I opted for safety as I did not feel like appearing to be foolish. The Pigs needed a two to tie the fixture. Dave was unable to rise to the occasion and experienced that sinking feeling , which in Queensland can last decades. Happily I had read my New Scientist and knew about pitch (or was it bitumen) so we ran out winners in a close fought and enjoyable encounter."
The Charabancs of Fire beat The History Men.
Ivor sends this....
"A very close game until the final round when we had our usual implosion.
Always a delight to play the Charas who like ourselves are agile but ageing and gracefully descending down the league. The heady days when we regularly vied for second or third place in the league are now like half remembered dreams.
Anne declared tonight's quiz 'very annoying' when we were only halfway through the introductory rubric (which is the longest in living memory). Some of us thought the Dunkers were referring to that other icon of popular entertainment Terry Wogan but that tribute game must wait.
and Damian offers this...
"We Charas continue our winning streak by notching up our second victory in as many weeks. If we keep on in this vein, who knows, we might actually finish 7th or 8th in the league this year. Such heady prospects!!
Tonight, as Ivor was quick to remind us, we were in the company of the 'Second Most Successful Withquiz Team Of All Time', although he generously permitted us to use the old fashioned term 'Historymen' for purposes of brevity. As is usually the case when we play each other, it was a nailbiting affair from start to finish with just 1 or 2 points in it and ties in many of the rounds. It seemed to be a fairly well-balanced affair too with no obvious advantage in going first or second and, according to Ivor, the numbers of 2s scored and unanswerables broke fairly evenly between the two teams.
Quiz Nerd Of The Week: Chara John for being the only one who knew the answer to the final question about the dripping tar experiment. He may have been the only one in the entire league for all we know but that remains to be seen. Not that we were complaining of course. Let's hear it for quiz nerds especially if they happen to be on your team!"