This week the paper was set by The Stockport League (in fact by Alice Walker and Haydn Thompson of The Railway a.k.a. Locomotiv Stöckpört).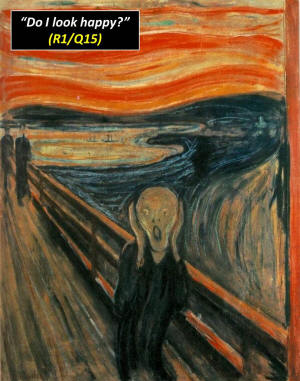 Just the right mix of rat-a-tat knowledge testers in the early Stockport-style rounds followed by more 'ponder-ful' themed rounds in the WithQuiz-style second half. Haydn was present at the Club and enjoyed a hearty round of applause at the close of the evening. The average aggregate across the two matches (106.0) was well ahead of the usual WIST paper average (the mid 90s).
In the A-Trophy contest I can't recall any challenges or groans throughout the evening. The contest started with a string of twos only broken by the question about the American Puritan minister, Cotton Mather, who nobody had ever heard of. Often the WithQuiz side of the table at these matches wonder whether their style of questions with plentiful themes and various other forms of answer-linking trickery might tax the 'foreign' setter but there was no such worry in this paper. In particular the final round where you were asked to chose a year and then find an answer containing the name of a US State capital was nigh on perfect WithQuiz fodder.
As for 'Question of the Week' the Round 1 question about the two German villages got everyone's vote. The Shrimps fielded this first and after much pondering James persuaded his colleagues that it could just be that one village had overtaken the other as the largest settlement of ex-pat Germans in Brazil (????). When it passed over to the Prods there was again much pondering before (I think) Michael latched on to the '50 miles to the south east' clue and worked it out. A great 'penny drop' moment which made it the clear front runner for the QotW award.
And then right at the end of the 'Extra Time' Round (inserted just in case and read out after the match had finished and the beer been bought) was a memorable gem about the development of the Fanta drink during World War 2. Check it out!
Mike O'B offers his thoughts on the paper....
"This was an exciting quiz with lots of interesting questions. We liked the round which involved personalities with first names identical to American State capitals. Could Lady Bracknell's first name really be Cheyenne?"
Many thanks to Alice and Haydn for a great paper.