The WithQuiz League were trailing from early in Round 1 and never managed to get back within touching distance of their opponents in the season's opener against The Stockport League.
By the end of the Stockport format questions (Rounds 1 and 2) Stockport had a 9 point lead and, despite a late rally by WithQuiz in the final round (won 6-1) Stockport kept their lead intact running out winners 60 to 51.
We only managed to field a team of 5 (Nick, Damian, Mike H, James and Tony) in this 6-a-side match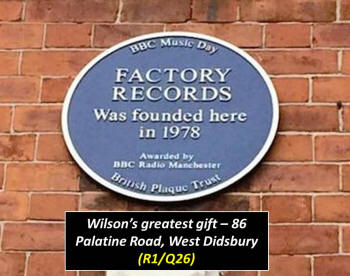 whilst Stockport had the full complement (including Roddy of Ethel Rodin fame who moonlights each Thursday for Smart Italics over in Stockport). I suspect Thursday evenings for many WithQuizzers are reserved for other activities whereas in Stockport Thursday is the traditional quiz night. Of course the same logic works against Stockport when a Wednesday is chosen for our inter-league matches (as in the WIST Champions and Lowly Grail competitions).
The atmosphere was - as the match title suggests - very friendly with plenty of sportsmanship (particularly when, as QM, I blurted the answer to one of the questions before offering it to Stockport for a bonus; the Stockport team admitted they wouldn't have known and let the QM error pass).
Suitably the Round 1 Stockport plaque question (Q11) went to the Stockport team and the Pennington Flash colliery Round 4 question went to Tony who was born and brought up pretty well on top of the pit in question. Surprisingly no-one knew what the plaque at 86 Palatine Road (just a few hundred yards away from the Albert Club) celebrated (Round 1 Question 26).