Opsimaths lost to Prodigals
Excellent performance from the league leaders to win a tensely fought Club derby

Mike B reports
It was an epic tussle at the Club tonight (which is more than can be said for City away at Burton in the other room). Although I say it myself these are two really good quiz teams each weighing up the odds as to when conferring is the best bet and when to trust yourself with a two. The Prods proved better at this and displayed more polymathy over the 8 rounds with Jimmy's encyclopaedic knowledge of Manchester bands complementing Dave's all-round mastery of quizzy stuff and Michael coming in with the sports and history knowledge. And that's not to mention John who knows everything else. This is a truly good Prodigals team and - if they keep going like this - they surely will lift the crown at the end of the season.
Once more we were delighted to see Dave mending bit by bit. If someone can just make those knees work.
The two teams were joined at the Club by Brian (as QM), Jitka (of course) and question setters Ivor and Mike H eager to observe the fruits of their labour being played out.
At the close we dug out the Orkney Dark trophy that marks the victors in the Albert Club derbies and here you can see me presenting it to Dave in recognition of their triumph. I still believe the Opsimaths have held it more often that not since it was first contested in 1993.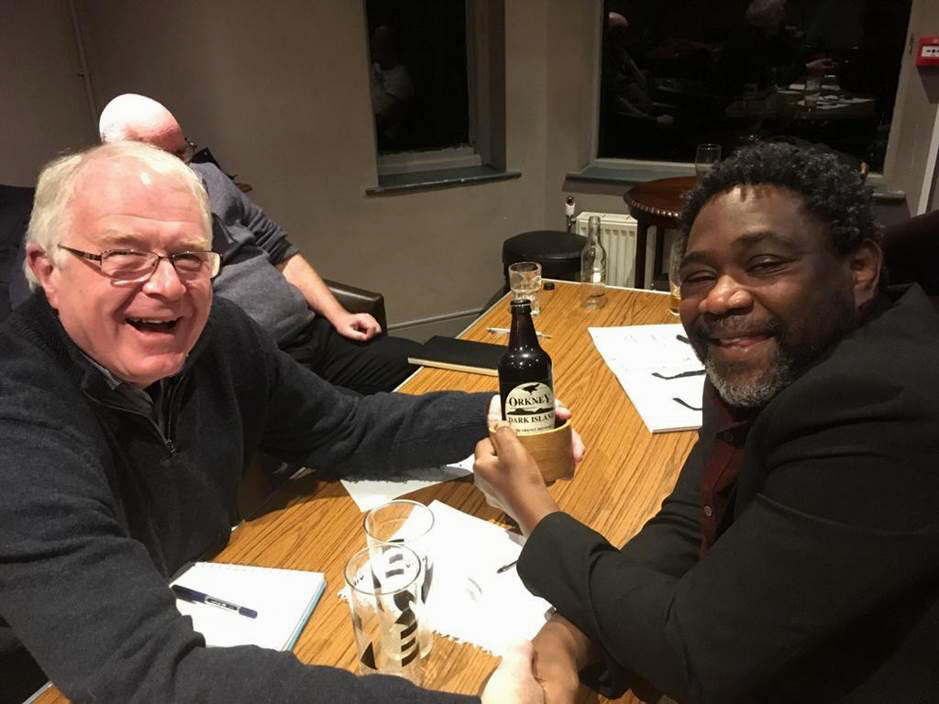 Quizzing over we nattered until well after 11pm testing each other with questions dredged up from our phones and pondering whether anyone had ever come across a Tory. This really is a very good way to spend a cold winter evening.
---
Charabancs lost to Dunkin' Dönitz
A solid victory for the Champs as they climb back into contention

Kieran reports
The Charas were as good company as ever and the traditions of the league were observed when Roisin got the cricket question.
Best of all, however, was the Albert's jukebox which was belting out 'choons' all night for all it was worth. Definitely my favourite new feature this season - closely followed by the completely random nature of the cost of a round. At the end of the evening Martin bought our drinks - three pints and a diet coke for £8.50 and I bought the drinks for the Charas, three and a half pints plus a pint of Guinness for QM Graham at a total cost of £8.80. I think the till doesn't have a '9' key.
It was the sort of victory we seemed to have week after week last season as we built to that last game shoot out. We're a long way from being able to think about that this year but everything looks better when you win and we're at least looking ahead to the remaining fixtures rather than back at the several pre-Christmas car crashes. Next week we return to The Griffin and welcome back President 'Bogota' Bob. We'll try to fit the quiz in around his stories of what he's been up to all winter. And our opponents are.... tonight's setters! Oops sorry guys, just ignore my comments on your paper.
Oh, and the champions elect on every screen in the place no doubt. How I'm looking forward to that.
---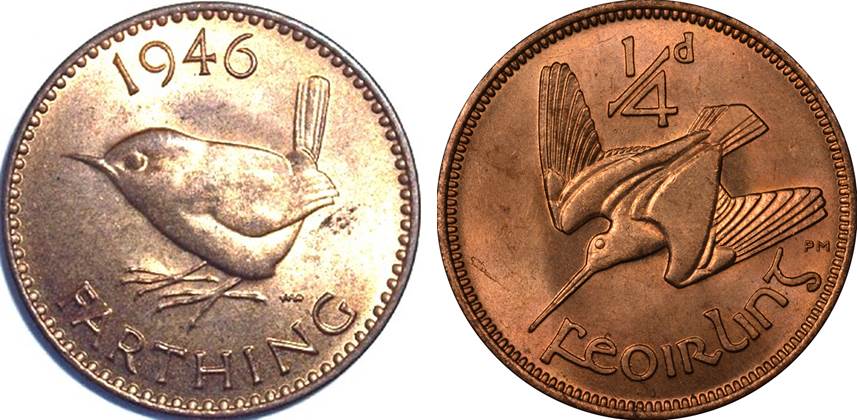 Farthing tails either side of the
Irish Sea
(
R7/Q1 & Sp/Q3
)
---

and the loser's take from Damian...
We like to pride ourselves on rarely losing by a margin of less than 30. It provides some solace when in the middle of a continuous chain of losses such as seems currently to be the case. This was another tight one against one of our fiercest foes and one which might have been even tighter if only the standard of our conferring had not fallen short lately, a self-inflicted handicap we can scarcely afford when up against master conferrers like the Dunkers - and in tonight's quiz the conferring skills of both teams were called upon to the maximum.
---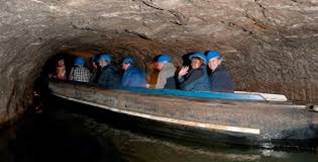 Experiencing satanic wind in Derbyshire
(R8/PC)
---
Ethel Rodin beat Bards
A comfortable victory for the home team down in deepest Ladybarn.
---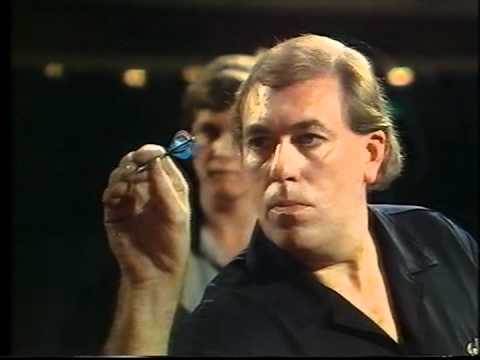 TV's 60-60-60-60-60-60-51-54-36
(R1/Q3)
---
Electric Pigs lost to Mantis Shrimp
A massive 49 points for the Shrimps see them home and hosed

Rachael sends this...
After a very enjoyable and lively evening of quizzing at the Fletcher Moss with our delightful opponents, the Electric Pigs, we finished the quiz 22 points ahead. We were in front by the end of Round one, a lead which we extended over the course of the paper.
---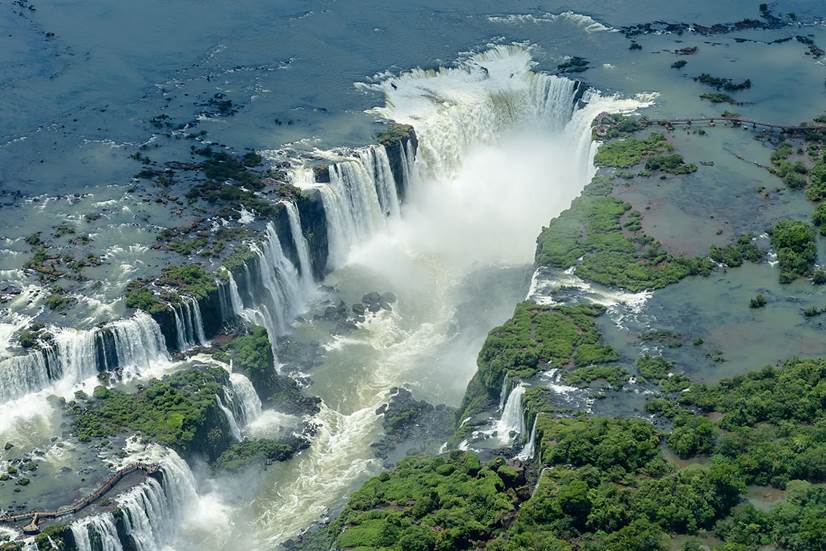 Spectacular Iguazo Falls
(R5/Q7)
---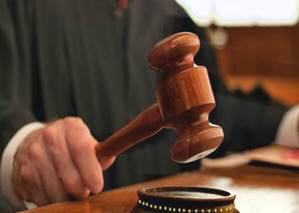 Quiz paper set by...
History Men
Average aggregate 69.5
Somewhat of a toughie tonight with the aggregate 7.6 points down on the season's running average (77.1).
Having said that it was full of interesting material and did what our type of papers do best - that is display the interests and enthusiasms of the setters (medicine, Scottish mountains and South America in this case). Consigned to answer standard quiz fare from an anodyne source we might have scored more but could you have kept us awake? Thanks to the History Men for providing the basis of a most enjoyable evening.
Rachael sort of agrees with me....
"Given the portentous introduction, we were pleasantly surprised to find the History Men's paper a far more enjoyable paper than the authors had led us to expect, with a wide range of interesting and varied questions which led to wild conferring and some inspired answers on both sides. There were a few questions, like the 'Order of Merit' ones, which fell flat, but the paper was generally well-received. After a long discussion about candidates for question of the week, we finally plumped for the Monty Python one as it raised a few chuckles from both teams."
---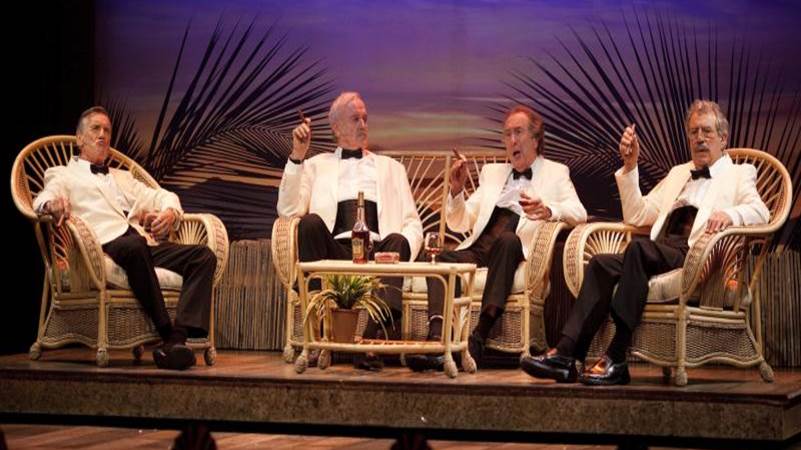 Four Yorkshiremen describe what it's like growing up the wrong side of the Pennines
(R2/Q8)
---
...but Kieran doesn't...
"The Historymen doubled down on their early season effort when they aimed for the bang average and undershot by some way, predicting a score similar to that achieved on their October paper and still missing by a large margin. They're nothing if not consistent. Too many occasions where both teams were just guessing with very little help from the question, too many obscure subjects and difficult answers which felt like the setters had been straining to find something to fit an ill advised theme. 282 Munros as a theme - really? - and too many unanswered questions (11 which, excluding the random nature of the last round, broke 7-4 against us - we went second first). On top of which three of our four bingo picks went begging on both sides."
...and finally Damian has this to offer...
"Tonight's paper from the History Men was a bit of a curate's egg - fascinating little titbits of information here and there buried amidst much that was obscure and impossible to work out if you didn't happen to know it. Unfortunately there was much we didn't happen to know including the name of an ancient historical battle between the Arabs and the Byzantines that left even a dedicated 'history man' like myself gasping for breath. Even the body parts theme couldn't come to my aid on that one!
Off the top of my head, I think the Bingo Round 8 went down best with all of us (although I guess you might suppose we would say that). We were pleasantly surprised to find that the History Men had actually provided a grid for the first time in our recall. Just a shame that they couldn't stretch to printing a copy for each team thus obliging Graham (who was on QM duty tonight) to have to fold it in half and neatly tear it down the middle. I must say he did it very neatly though!"
---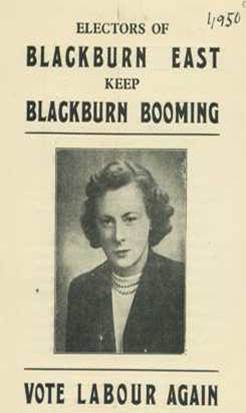 Blackburn's 1964 Cabinet member
(R1/Q5)
---
Question of the Week
This week the Shrimps opt for the 'SN' question in the Blockbuster Bingo Round 8:
Sociopathic criminals Doug and Dinsdale Piranha who employed a combination of violence and sarcasm to intimidate the London underworld and bring the city to its knees were themselves terrorised by a giant imaginary animal (according to Monty Python). How was this animal known?
For the answer to this and all the week's other questions click here.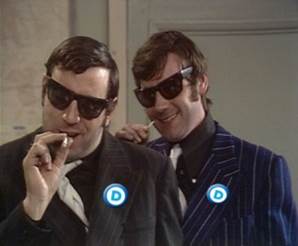 "Don't mess with us – we're Doug and Dinsdale. Know what I mean?"
(R8/SN)
---
...and also
It's now just about 4 months since I devised and implemented the new style for the website. To replicate this style across the whole site has given me the somewhat daunting task of converting 512 past question papers and 493 past QuizBiz articles so that they conform to the colour style and navigation rules in use on the current version of our site.
I have completed about 20% of the task (just under 200 pages done) including all the pages for the 2017/2018, 2016/2017 and 2009/2010 seasons. I have started just the other day on the question papers for the 2001/2002 season and have quite enjoyed browsing what we quizzed each other on 18 years back.
---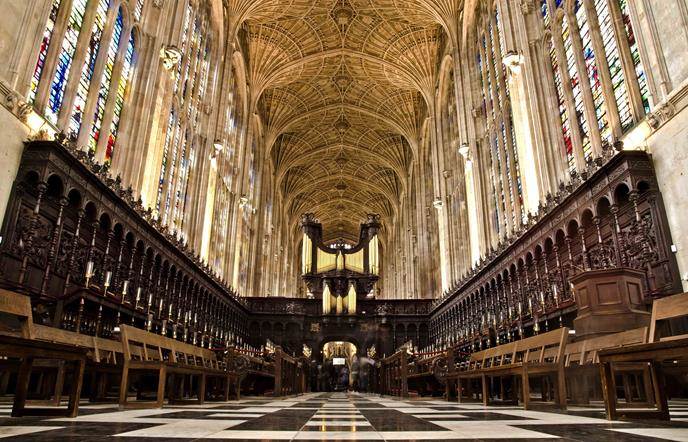 Carols on the air for 90 years
(R2/Q2)
---
For instance take a look at the Brains of Oak (i.e. today's Charabancs) paper for October 24th 2001 and then Albert's for November 28th the same year. Both were complete 70-question Bingo papers. Competitors were simply asked to pick a number between 1 and 70. Today's Bingo-grumblers should thank their lucky stars that today's skirmishes with this format are relatively slight.
2001 questions are almost all one line long or less, with one or two word answers. No themed rounds and plenty of pairs. It's fun to see how much stuff that must have seemed dead important at the time has totally faded off the radar and which questions could just as legitimately be included in one of today's papers.
---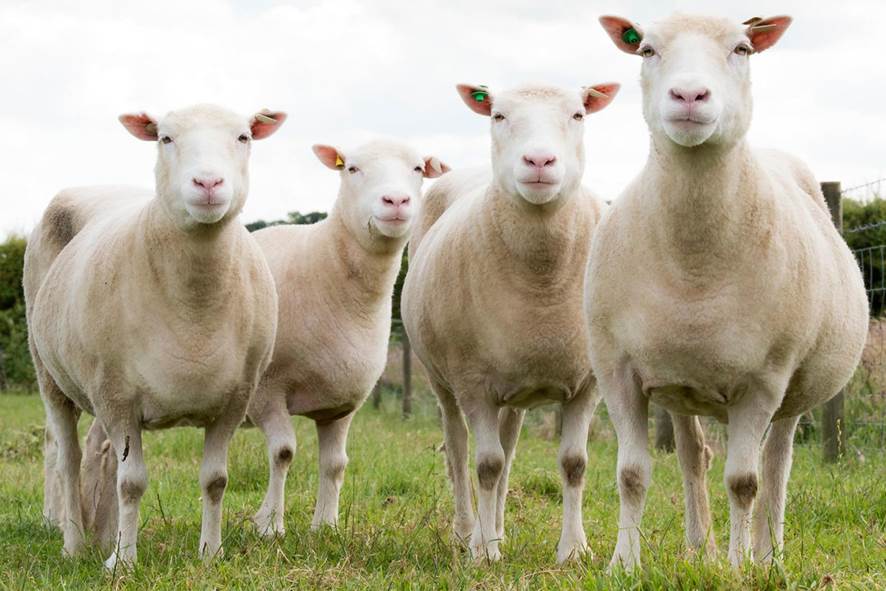 Dolly's daughters – but which 'D' is which?
(R1/Q4)
---
In addition to the work described above I have started putting some of the Albert Club Monthly Quiz night material on the site (so far just 11 rounds). Those of you not familiar with these quizzes may find this stuff well worth investigating. It's totally different from the WithQuiz fare both in terms of presentation and in the type of challenge posed. Probably much more useful to you than the WithQuiz papers if you've got the task of setting the questions for an office quiz evening.

To access any of these past papers (WithQuiz or Albert Club) follow the main menu

Question papers link.
---