Mantis Shrimp beat Opsimaths
The Shrimps go roaring into their big showdown with the Prods next week whilst the Opsis have to lower their sights to a top four finish

Mike B reports
Richard Gilbert was unwell so the Shrimp were a player down. This meant that your non-playing correspondent for the evening became QM as Adam, Rachael, Tom and James entertained Nick, Howell, Brian and Innis in the cavernous Parrswood. The hosts put on a display of awesome expertise as they cruised towards, what proved to be by some way, the evening's highest score (46).
From the QM's point of view there were two moments of gubernatorial mishap during the evening....The first on Round 1 Question 1 when I misheard Adam and asked him to repeat his answer by saying "Horse's what?". He hadn't said horse's anything and so I'd inadvertently prompted him towards the correct answer. The matter was quickly resolved - everybody accepting that his initial answer was wrong and that the Opsis were about to give the right answer on a steal.
---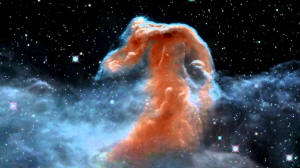 Riders in the sky
(R1/Q1)
---
The second problem arose (as I suspect it did elsewhere) over the 'Castor & Pollux' question. The answer on the sheet ('one was half divine and the other was half human') did nothing to distinguish the luckless twins since we were not told of what the other half of each of them consisted. Nick speculated (in the light of Rachael's well known predilection) that they were both topped up with a healthy helping of biscuit. In the end we all agreed that the Shrimp's initial answer ('one was human and the other divine') was correct, duly awarded them the points and moved on. All very friendly and adult. Later we speculated over the shenangigans that might have been invoked if these incidents had arisen in the QLL (Quiz League of London) or in one of the Merseyside competitions. We all agreed that we've got this aspect of our own competition in the right space.
---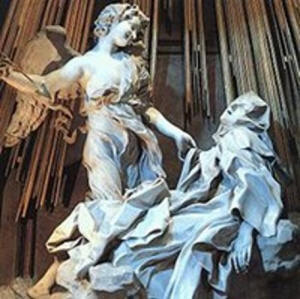 St Theresa gets high
(R7/Q8)
---
I was reminded of the endless VAR nonsense I had witnessed at the Etihad the night before when what seemed like every significant move on the pitch was followed by referee, players and 50,000+ fans all looking at a blank screen while some jobsworth in a backroom somewhere put down his cup of tea, looked for the remote control behind the sofa, reran the clip of play on his big screen, looked up 'Goal allowed' in a German dictionary so that everybody in the stadium understood his decision and then typed a message into his computer. I think we can rest assured - WithQuiz has got arbitration sorted.
---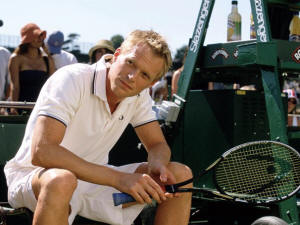 Peter waits for the call from Ivor as the History Man puts the finishing touches to his scripts for
Second Service, New Balls Please
, and
Unseeded in Court Number One
(R1/Q7)
---
Prodigals beat Dunkin Dönitz
In one of the matches of the season the Prodigals reasserted their title claims with a single point victory over last season's champions. A momentous result!

Dave R reports from the front line...
Quizzing? Bloody hell. More like Helter-Skelter than Lovely Rita.
The Donuts showed why they have won the league so often and were going again for their third successive title. Their individual and team dynamic is so hard to beat. The match became an epic struggle as the visitors tried to press home the advantage they had kept for most of the match. The tide turned in Round 7, but of course nothing comes easy against the Donuts, with the match ultimately hinging on Michael's knowledge of the Backstreet Boys, producing the two to clinch victory.
Thoughts then turned to the Champions League draw on Friday and the possibility of more titanic struggles. The match was played in an excellent spirit, despite the implications for both teams' seasons and I applaud the Donuts for making it a brilliant contest, which as the score suggests, could have gone either way. Thanks too to Anne-Marie for her expert handling of the QM's job – we forget how difficult it can be in tense matches like last night's
Finally, thanks to my team-mates Michael, John and Jimmy, who seem to be able to handle anything that is thrown at them, including my off-putting interventions preventing them from giving a correct answer that they already knew. Now off to the Parrswood for a crucial match against the Shrimps. Whatever happens in these last two games, it is a season The Prodigals will never forget.
---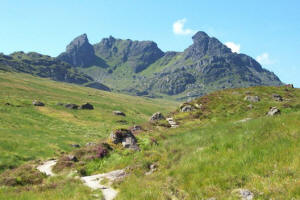 Another 'shoddy' Scottish mountain
(R3/Q4)
---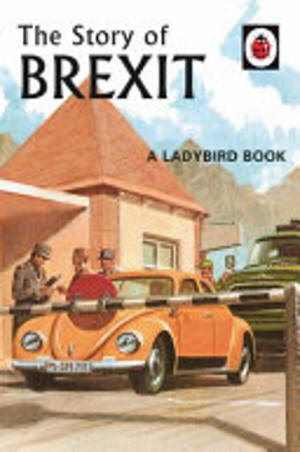 Still filling us in after all these years - here's an extract from their latest:
"
Brexit gave us lots of exciting new words, like brextremist, remoaner, bremoaner, remaybe, breprehensible, remaintenance, brexorcist, remaidstone, brex-girlfriend, remange, brextortion, remayhem and bregret. The new words make it harder for foreigners to understand what we are saying. In a tough, new international business world, small advantages such as this can be crucial."
(R7/Q6)
---
History Men beat Albert
Ivor & co. scupper Albert's chances of title glory.

Ivor kicks off a trio of reports from this one
After our (perhaps) unexpected poor defeat last week a (perhaps) unexpected victory tonight against one of the teams challenging for the title. As I have mentioned before we have always had a testing time against the Albert. When we joined the league in 2002 they were the last team to fall to our sword (in 2005 I believe) and we only managed to snatch victory by a single point on the last question in our meeting earlier this season.
Tonight was not a game of two halves, it was a game of four quarters. We were 7 points behind after two rounds, recovered to 2 behind at half time, fell back to 8 behind by end of round 6 and then, unusually for us, managed to stay focused and finally get some questions we knew the answer to. Round 7 ended 8-1 (at which point we were just one point behind) and then we feasted on a pop round with a sufficient number of historical questions to suit our complement of ageing pop pickers. No one will be surprised (not least the Prodigal's Michael Taylor) that the only questions not selected were from the 2000s. The round ended 7-2 in our favour and a victory for us. This might help cement our league position to a good solid eighth.
A pleasant evening was had by one and all with even the Albert's Rat and their Paddle of Rebuke making an appearance at the end as their owner's title hopes faded for another season.
---
Let's have strict controls on immigration so that prats from down under can't come here, nick our pubs and persuade us all to shaft our economy
!
(R7/Q5)
---

whilst Mike O'B dolefully reflects
It was all going swimmingly - 8 points ahead with 2 rounds to go; then we were engulfed by a tsunami of ignorance. Three points from the last 2 rounds! Even our own 'Heavenly Twins' Ashton and Jeremy could do nothing. Eveline was unable to play tonight but there is no truth to the foul rumour that she is on remand in Styal after her latest bout of GBH. We are all confident that she will make bail soon.
---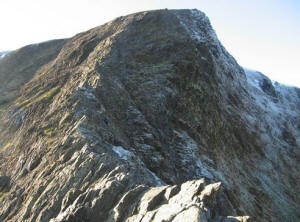 Sharp Edge on Blencathra in the Lakes
(R3/Q3)
---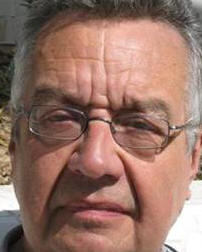 whilst Mike H was more upbeat
Once again I was privileged to be a member of the History Men team - and once again I notched a two-pointer (Tornados) despite being frustrated by getting Lola (a different decade) mixed up with Rita (which Ann knew!). From a position of losing by 10 we eventually ended up 4 in front.
Perhaps the turning point was the Spanish-based descalzado, which both Ann and I knew but the other side didn't.
And what made me even happier was the fact that Liverpool had a resounding victory in Germany. Question: why are United fans always upset when Liverpool fans are happy? We never rained on their parade when they had their great European victory last week.
---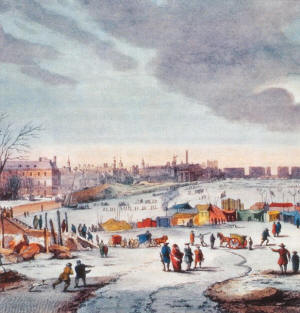 Thames Frost Fair
by Thomas Wyke, 1683-4
(R2/Q1)
---
Electric Pigs lost to Ethel Rodin
Ethel get the better of a relatively low-scoring match at the Fletcher Moss.
---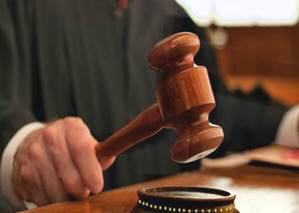 Quiz paper set by...
The Charabancs
Average aggregate 72.5
...a little below the season's overall average (76.9) with a paper that seemed patchy to me QMing at the Parrswood. Some pretty hard stuff (the name of a character in the film Wimbledon) interspersed with slam-dunk material such as the capital of the Cameroons (I thought capital cities were well and truly off the agenda as quiz fodder these days). I have to say this didn't feel like one of the Charas' best - and their best are usually pretty hot.
From the Red Lion Mike O'B offers these thoughts...
"As the score suggests we found the quiz challenging; the opening round produced 4 unanswered questions."
...and also from the Red Mike H feeds back...
"A good idea to have a pop music round with different decades thus making it fairer for those of us who are shaky on post-70s music. However on the down side one question had to be replaced with a spare following a dispute over Castor & Pollux."
...and from the Albert Club Dave R adds this...
The consensus was that it was a balanced quiz producing the ideal scenario from the setters point of view - a last question shoot-out. Generally, a good effort from the Charas.
---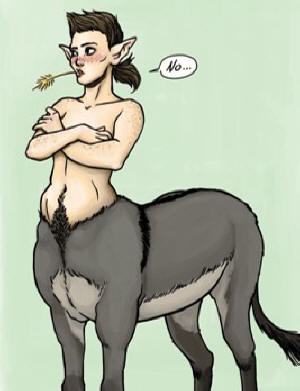 Oooh! That does look painful
(R1/Q5)
---
...and in conclusion Ivor has these words for the setters...
"Moderately hard paper with a combined score of 68 and no less than 17 'steals' breaking 9-8 in our favour. This suggests that we knew each other's questions rather than our own and that if we had gone second rather than first the combined score might well have been greater (but perhaps the result the same). The first round had no less than 4 unanswereds and we thought we might be in for a torrid time but after that there were only 6 unanswereds over the last seven rounds.
Some good questions tonight. We did ponder how many interesting questions can be left in the world of quizzing as our league would appear to be exhausting the supply - but every week there are still many to delight and mystify. Some totally impossible such as the character name of the tennis player from the film Wimbledon. My desperate guess of 'Rob Stallion' would be more likely to have been the star of a porn version (Second Service maybe, or New Balls Please, or Unseeded in Court Number One - I am making this up as I go along).
Tim was in his element with healthy walking areas; Mike H scored with 60s pop but also had a 60s pop blurt - not that it matters but ragging one's fellow team members is part of the evening's fun. Anne was our star with no knowledge of real stars but an encyclopaedic knowledge of contemporary thespians of film and TV.
Only controversies: Mrs C in the QM chair did wonder (as did we all) that if Castor was half human and Pollux was half divine what were the other halves? We agreed to void the question and in the end it made no difference to the final outcome.
---
Question of the Week
This week I've chosen the Spare question from the geeky Round 6:
1. What affliction was shared by King Pedro of Castille (1334-1369), Mike Tyson, Thomas Jefferson and Jonathon Ross?
For the answer to this and all the week's other questions click here.
---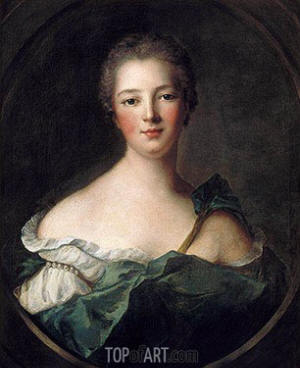 Jean Fish and her hidden computer programming ability
(R6/Q7)
---
Glossary of Quizzing Terms
transitive verb (conferrˈing; conferredˈ)
The action of a quizzer when they have decided not to risk an answer on their own and so wish to consult the greater volume of brains available amongst the rest of the team, albeit for a one-point rather than two-point answer.
As is often the case in quizzing there may be opposing reasons for conferring: cowardice (i.e. 'I think I know but I'm frightened to appear wrong to my colleagues' and wisdom as in 'I haven't got a bloody clue'). The cowardice version of these is usually kicked off by the original competitor saying something like, "I'll confer, but it isn't 'xyz' is it?", to which the rest of the team says something like "Of course it is you twat - why didn't you say that!".
An alternative version of conferring is the 'solo confer' where a team member doesn't confer with others but talks loudly to themselves in the hope that a sign from one of the others helps whittle down the options without the need to forfeit the valuable two-point solo correct answer. This is strictly verboten but nevertheless has been known to occur (but never amongst the Pigs of course!).
---