In 1994 (I think) Allan, Richard, John and Mark thought it would be a good idea to enter a team called The Albert Park into the Withington Quiz League; 25 years later their worthy successors Jimmy, John, Dave and Michael, skippered by Anne-Marie and now called The Prodigals, lifted the WithQuiz league trophy for the very first time. A great reward for 25 years of hard graft topped by an excellent 2018/19 season.
Never mind my tribute. Rachael, skipper of the ever-so-almost winners for the last two seasons, The Compulsory Mantis Shrimp team, has this to say...
"We would like to send our warmest congratulations to The Prodigals on their very well-earned victory. They have played brilliantly all season and are generally just a brilliant bunch of people! Quizzing against them is a great deal of fun, even though they always beat us!"
And surely next season it MUST be the Shrimps' turn.
Finally I hope you are watching over there in Vienna, Cheryl and Mark.
---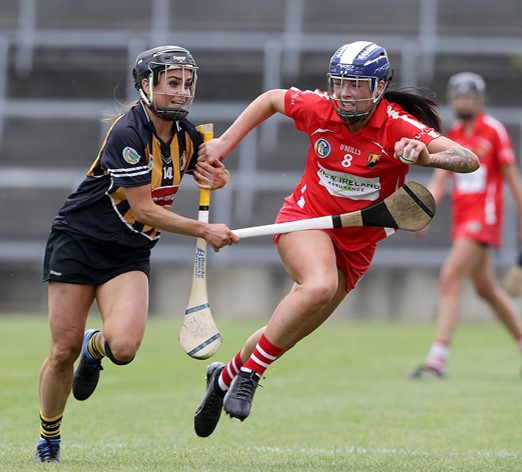 FR M's parishioners practice their defence techniques
(R1/Q1)
---
Electric Pigs lost to Prodigals
A final skip over the line for our new League Champions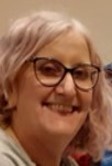 As the Prodigals enjoy their triumph Anne-Marie has asked me to recall the past players who have helped make playing for her team such an enjoyable and sociable experience down the years: Clive Berry, Allan Stores, Pete Conry, John Jackson, Richard Seed and of course Mark and Cheryl Bassett out there in Vienna.
She also asks me to mention that between them this season's Prods reckon John Hewitt their Most Valued Player for his dogged consistency throughout a tough season - and I don't think any other WithQuiz players will disagree with that!
---

and Dave Rainford reflects on a great evening for the Prods...
We went to the Fletcher Moss in hope rather than any kind of certainty. The Electric Pigs are always capable of giving a team a bloody nose. They beat the Prodigals last season and the 39 points they garnered were testimony to a team that could easily have been major party poopers. Guy, Barry, Tom and Dave were formidable opposition and their tenacity was admirable, even in the face of some rotten luck with the way the questions fell. We agreed it was a good toss to lose. Andrew Simcock was as erudite and authoritative in the QM's chair as ever. Some of his colleagues in the council chamber could benefit from his firm but fair approach.
Backed by some marvellous away support, we put on a solid team display which didn't allow any loose points to slip through the net. As well as the wealth of knowledge within the squad, this season more than any other, we have displayed the essential ingredient needed to succeed in WithQuiz – team matchplay. The core of John, Jimmy and Michael, who only missed a smattering of matches between them, are integral to our success. However, the contribution of Anne-Marie, Danny and Kate made sure we have become a hard team to beat and so it proved.
---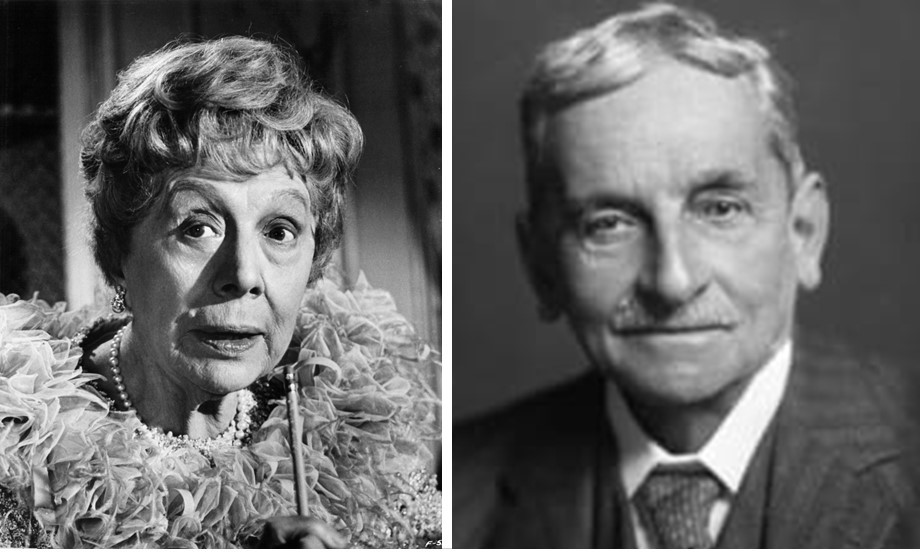 The Evans siblings
(R7/Q5)
---
The class of our nearest challengers The Shrimps is obvious. Rachael's lovely congratulatory message showed why they are great. They are lovely adversaries and it is a shame there had to be one winner. Fulsome praise too to the Donuts, the Opsis and The Albert who all had title ambitions coming into the last few weeks of the season. The Albert beat us home and away with no need for the paddle of rebuke on those nights, and the matches with the Opsis, Donuts and the Shrimps were tight battles summing up the tale of the season. Matches we would have previously lost we sneaked and that resulted in an inaugural Prodigals title.
Thanks to all of our opponents for great convivial nights in victory or defeat or crucially, in Ethel Rodin's case, a draw. Finally, it is the day of the Prodigals and everything is hunky-dory. A special shout-out to Stella, who has been a constant, invaluable support to the team throughout this momentous league season. And finally to the Prodigal friends from Vienna (not Ibiza) to the Norfolk Broads, including one very special absent one, who all built the foundations of a team that I have always been proud to be a member of, this is for you.
As Danny reminds us, the season isn't over. A tough match ensues against Cup kings The Charabancs and we will welcome them for hopefully another great match. Father Megson himself said "The Prodigals are a mighty fine quiz team and will be there or thereabouts at the business end of the season." In between binge-watching the second series of Fleabag, he does show some great foresight.
---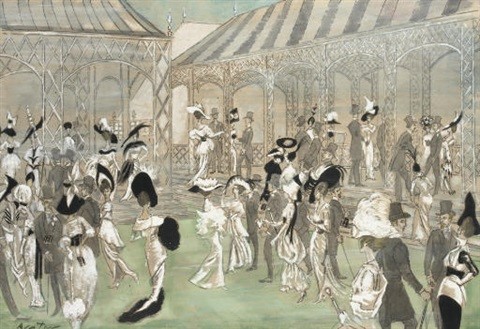 Beaton's design for the Ascot Gavotte
(R3/Sp2)
---
Bards lost to Albert
Albert complete their league programme firmly lodged in third position

Mike O'B sums up...
This wasn't a bad quiz once we had struggled past the first round which seemed to take forever and produced a 3-all draw. Later on I was fortunate that the 'Location of the Britannia' question didn't fall to me because, while I knew the location, I misheard the question and thought there was a reference to a garrulous police horse. Who could this be? Mr Ed? Bill Tidy's cartoon featuring Rampton the psychopathic police horse? Those houyhnhnms in Gulliver's Travels? It was very surreal.
---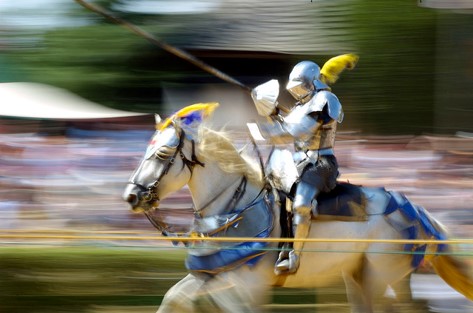 State sponsored sport in Maryland
(R1/Sp1)
---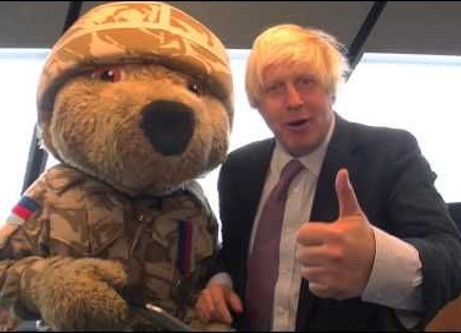 Clearly he's not read A Winter's Tale and doesn't realise what's going to happen next!
(R5/Sp2)
---
Opsimaths beat Dunkin' Dönitz
A great home victory for the Opsimaths to ensure that both Albert Club teams finish in the top four

Mike B reports...
We have not fared well against the Dunkers this season (tonkings in both the league and WIST matches at the Griffin) but this time round we were on peerless form. Clare joined us for the first time this season and with regulars Innis and Nick, and myself an occasional player, we sailed through the test Brian had set (and QMed) for us.
Of course no Opsimaths/Dunkers match is ever a breeze and it's always impressive to hear the collective Dunker cogs whirring as they weigh up when to confer and when to go for a two. Tonight was no exception but the Opsis matched them on twos. Surprisingly it was the steals what done it for the home side.
Best laugh of the evening was Martin recalling his Quiz Machine years and the time when a new set of questions did the round asking "Who directed The Last Emperor?" and gave as the answer the well-known Irish film director "Bert O'Lucci".
Best bit of lateral thinking of the week came from Innis who - as his team mates did a mental trawl through Ian Fleming's James Bond oeuvre for an onomatopoeic title chirped up "didn't he write Chitty, Chitty, Bang, Bang?"
Kieran warned me last week that this week's match would be like a contest between two bald men fighting over a comb but I can warn both the Prods and the Shrimps that both these former champs will be fighting tooth and nail to be in contention next season. We may have lost a bit of hair but the marbles are very much intact!
---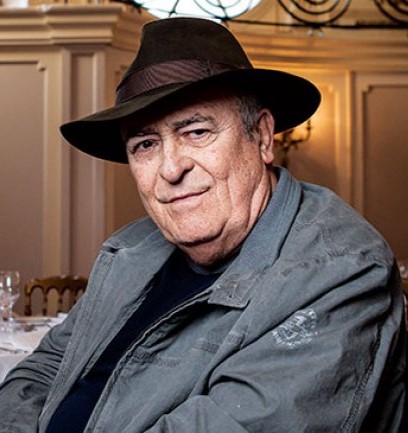 Bert O'Lucci - giant of the Irish film industry
(R4/Nov)
---
History Men lost to Mantis Shrimp
A fine victory for our ever popular runners up

Rachael is the soul of generosity as her team miss out on the league title by just a single point for the second year on the trot...
After an enjoyable evening at The Red Lion, we ended a very hard-fought match leading by 7 points.
We were a couple of points ahead after Round 1 and had extended our lead to several points by the end of the fourth round but our excellent opponents caught up with us in the second half so that there were just four points separating us towards the end of the match.
The History Men were great company putting up a spirited fight. They conferred furiously on many questions and managed some inspired answers as a result.
---

Furious conferrer Ivor gives his take...
We were never in the hunt tonight. We were undone by a combination of blurts, a loss of confidence in going for twos and the downright superiority of the opposition. The Shrimps have done their best and, unless the Prodigals have slipped up against the Pigs, will finish second in the league in consecutive seasons. It remains to be seen whether we have hung on to sixth place or slipped back to eighth but at least we are guaranteed a place in Europe (not that we have done especially well there either in recent years). There is always the Cup to look forward to - though somehow despite our lowly standing we seem to have a handicap of zero which will not help us much.
(Ed: The History Men actually finished 7th in the league table)
Unlike most teams when the wheels start to come off our wagon there is no gentle 'paddle of rebuke' or commiserations of 'bad luck' in blurting or opting for the wrong possibility of two potential answers. It is full on "You cretin!" or "Don"t you know anything?" or worse. Tonight Tim was lambasted when he confessed to never having watched The Flintstones which in other circumstances might be worn as a badge of honour.
---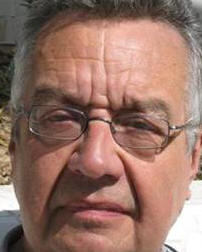 ...and Mike H's thoughts...
First of all many congratulations to the Prodigals, another great team who really enjoy quizzing and make quizzes fun for others (as indeed do the Shrimps).
The Shrimps thoroughly deserved their victory tonight but it should have been much closer as on several occasions the Historians conferred when the person being asked knew the answer all along.
---
Charabancs lost to Ethel Rodin
Ethel clinch 6th spot with the narrowest of victories

Damian our Western Imperialistic Wussy reporter checks in...
What a cliffhanger with which to conclude this year's league season! Ahead in almost every round until steadily clawed back in the last two, it seemed to be the story of our season, yet again. Maybe it was a dubious omen when Father Megson, freshly back from paying his respects to his boyhood hero, Ho Chi Minh (apparently looking well despite being dead for the last 50 years) forgot the Vietnamese words for 'We are Going To Win Tonight'.
Still, we thought we had dodged fate up until the very last moment but, despite everybody else's hands pointing towards me with eager anticipation, I couldn't, alas, connect the author of You Only Live Twice with Chitty Chitty Bang Bang so we had to confer for a one instead of what would have been a tie-breaking two.
Earlier our generous opponents actually offered to award us the points when I blurted "Mahatma Gandhi" instead of his actual first name 'Mohandas' which I knew and hastily tried to correct. However quiz setter Brian's stern admonition that 'Mahatma' was unacceptable left QM Jane with no leeway for discretion and so we reluctantly had to decline their kind offer which, had we accepted it, would have resulted in a win for us. I wonder if dear old Ho Chi Minh would have approved, or would he have just sneered at us for being a bunch of Western Imperialistic Wussies?
---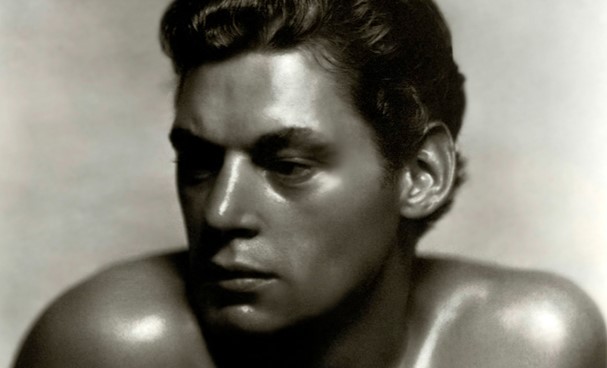 A Bronze for Weissmuller
(R1/Q7)
---
Quiz paper set by...
Guest
(Brian McClintock)
Average aggregate 87.0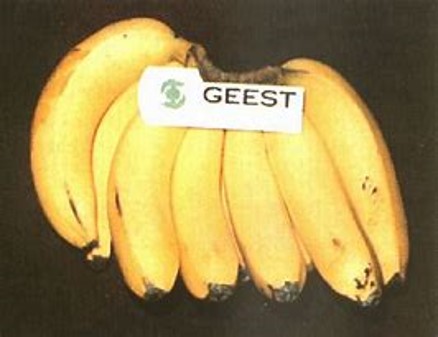 Our Guest setter presents his bunch
A great paper on which to end the league programme - 10 points above the season's overall average. The range of information covered seemed fine and there were few points of contention to worry about. Opsimath, Clare, who is a good judge of these matters (from her role in University Challenge) reckoned it fair to young and old containing plenty of special knowledge that a generalist should know but little specialist knowledge that a generalist might not be expected to have clocked. For the lovers/haters of long lost TV sitcoms It Ain't Half Hot Mum made a fleeting appearance but that was all. For newcomers to Manchester who haven't yet familiarised themselves with all the local watering holes there was just a single question on city centre pubs (The Sawyers Arms).
Point of contention? 'Inis Mor' means 'Large island' in Gaelic - not 'Great Aran' (which would be 'Aran Mor'). My team mates thought the answer was 'Inis Mor' but I persuaded them otherwise and we lost the point.
---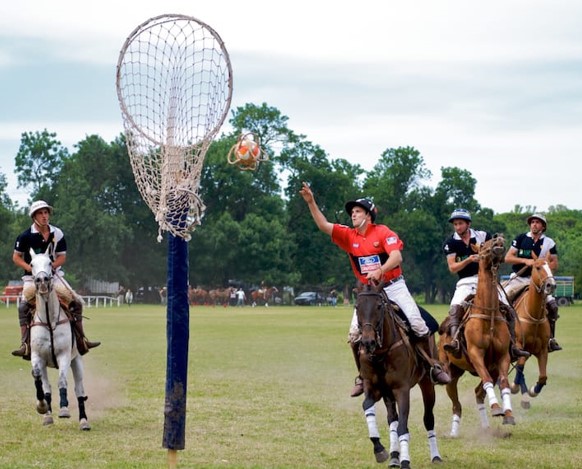 Pato players in action
(R1/Q2)
---
Rachael gives the Shrimps' assessment...
"We all enjoyed the paper; it was a generally solid affair with plenty of variety, though the Shrimps did struggle a bit with the names round!
As usual the Run-ons round was a lot of fun!"
Ivor has this feedback...
"Questions and themes favourably received for the most part. As usual the hidden theme round sent us off down the wrong track with 'Gertrude' suggesting a Hamlet connection.
---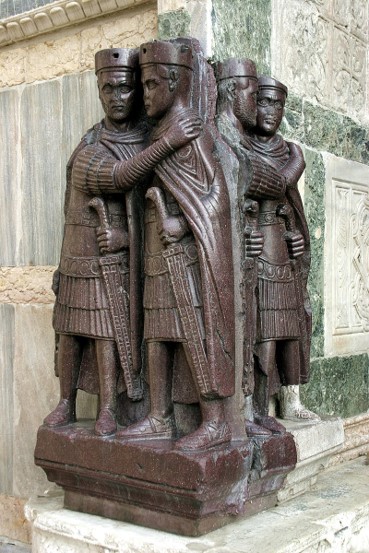 The Four Tetrarchs cosy up in Venice
(R6/Q2)
---
Many of the 'RIP answers' evoked comments such as "Is he really dead?" which suggests we do not keep up with the new stuff at all - or perhaps that we just forget it. With the way our brains have been going this season, next year we will have even forgotten we have forgotten.
There were occasional tests of our ignorance (though not the Shrimps') for example character names in Hitch-Hikers Guide. The quiz paper was nicely set out in a grid and for fuss-pots like me there was not a single inaccuracy; even the distinction between Peter Carington (one 'r') and Baron Carrington (two 'r's) was captured in print - though of course they are pronounced the same."
...and Damian reflects...
"We all enjoyed tonight's paper from Guest Setter Brian (maybe the Opsis could loan him out for this task on a permanent basis?), despite the occasional wordiness of some of the questions which often had us ready with the answer long before Jane had finished reading them. I particularly enjoyed the 'Link the First Names With the Common Surname' round despite my unfortunate blurt on the Gandhi question, which nevertheless didn't quite live up to the glorious 'Tizer' blurt uttered by Graham last week. He's still happily basking in the glow of that one!"
---
A 360 Pop Shove It
(R3/Q4)
---
...and Dave R has this brief observation...
"A good solo effort to wrap up the season. The 'Hitch-Hikers Guide To the Galaxy' question came out of left-field compared to the rest of that round, but the scores reflect a high-scoring match. An excellent effort."
...whilst Mike O'B offers this summary...
"The aggregate score suggests that it was a reasonable quiz even though its success was mainly based on Rounds 2 to 8. There were few unanswered questions."
...and Mike H has a bit of a QM gripe...
I have been thumbing through the WithQuiz papers from 2001 which are much easier to read from the QM's point of view - many of tonight's questions were so long - sometimes with more information than necessary.
---
The Davies siblings
(R7/Q4)
---
Question of the Week
This week the Opsimaths vote for Round 8 Question 7, a lovely question themed on onomatopoeic words in the answers which nicely sent all the Opsimaths (apart from Innis) haring down the wrong track:
In 1964 this author wrote You Only Live Twice. What other book did he write in that year?
For the answer to this and all the week's other questions click here.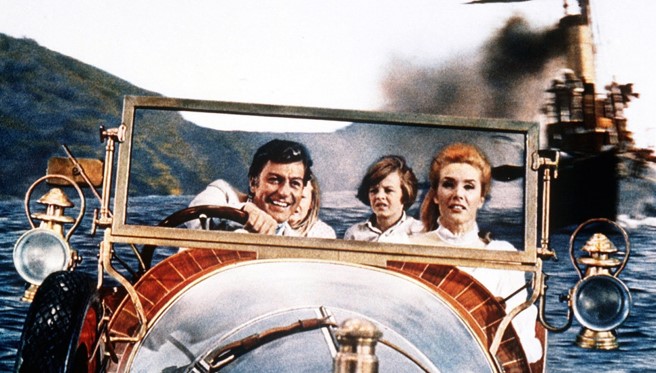 Shaken and stirred - but no Bond
(R8/Q7)
---