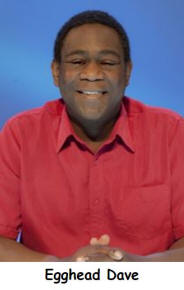 It is with great regret and immense sadness that I have to tell you all of the death of one of our best friends and most inspirational WithQuizzers, Dave Rainford.
Dave died last night (6th/7th March 2020) and was discovered this morning by those who came to help him.
Although he has had many 'health crosses' to bear over the past few years, of late he had been managing pretty well, so his sudden death came as a great shock. Indeed he seemed in good health not to mention sparkling form at last Wednesday's WithQuiz match when the Prodigals put KFD to the sword at the Albert Club.
He was also in winning form at the monthly Albert Club quiz on February 24th when it was lovely to see him being dropped off by Ella, his daughter of whom he was so proud.
I have known Dave for well over 30 years (and I know others in the league count the years of their friendship with Dave back even further). He never had a bad word for anyone. He was gracious, kind, considerate, encouraging to those less able to muster up the answers than himself, and always thought of you rather than himself. Sounds a bit passť, but he was a true gentleman.
We were all so pleased, therefore, when he won £250,000 on Who Wants To Be a Millionaire. It was no surprise to those who knew Dave well that the first slice of his winnings went towards treating his many friends to a freebie evening at the Red Lion. When he earned his place amongst the nation's quizzing elite by becoming one of the Eggheads it seemed a natural progression. I know he will be greatly missed by his colleagues on that show (indeed his great mate, Jeremy Vine has already tweeted a warm tribute). Amongst the Eggheads, Dave was the one who exuded personality in bucketfuls. He had the chat - and boy could you hear him! In another life perhaps a stint as a continuity announcer on Radio 4 would have made his fame.
But back in WithQuiz Dave had never been part of a team that won the league - or at least that was the case until last season. How pleased we were - and are - that Dave and The Prodigals stormed to the title last season. Thanks for your years of friendship and support, Dave. I will miss you a great deal. Mike
Here are some tributes from others who knew and loved Dave....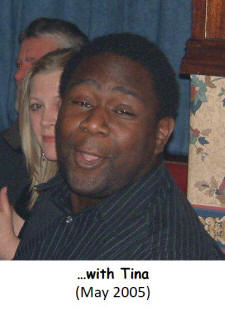 First Anne-Marie his closest quizzing friend and team captain of Dave's team, The Prodigals...
"It is with tremendous sadness that we have to report the sudden passing of our great friend David Rainford. Michael, Jimmy, John, Kate, Stella, Cheryl, Mark, Danny and and I are all shocked and devastated.

It's safe to say that the WithQuiz community would all agree with us that David will be sorely missed by us all. As well as being a fabulous quizzer, he was a fabulous human being too. I doubt we will ever meet a more generous and kind man; a big personality, who could fill a room with his presence and that voice! Even his whispers were loud.....

He had had his difficulties recently and he bore them with such good grace and humour. We never once heard him complain or moan. He always tried his hardest to get to the Wednesday quiz, which says a lot about the affection he had for his fellow WithQuizzers. He loved the quizzes but loved the post-match banter even more. You all meant such a lot to him.

We are delighted that his last match was a hard-earned win against Kieran and his fellow KFD team mates. He enjoyed his victories against KFD in their various guises the most, which is a massive compliment to the skill and knowledge of such formidable opponents. KFD are always tough, always fair, always fight hard, but are always great fun to be with. Thank you Barry, Martin, David and Kieran.

Having chatted with my team mates we have agreed that we will turn out (Coronavirus permitting) on Wednesday to play another WithQuiz legendary team, the Pigs. There will be a massive David-shaped hole in our team, but we will try our best to win as usual.

On a personal level, I have had the pleasure to have had David in my life for nigh on 30 years; we never had a cross word, always looked out for each other and I came to consider David as one of by best friends.

My thoughts are with Tina and Dave's lovely daughter Ella at this difficult time. I will pass on any messages you have about David to them.

Next time we are all together at the end of season Quiz evening letís raise a glass or two to our opponent, our colleague and our much missed friend the one and only David Rainford."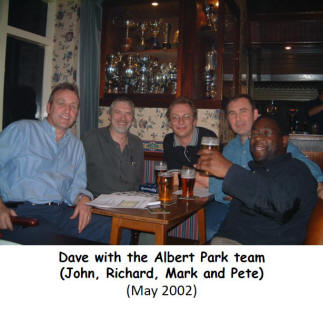 Long time quizzing adversary and good friend Kieran sends this...
"We played the Prodigals at the club last Wednesday and we lost, in no small part due to Dave's customary four or five twos. Dave was also in appropriately 'tremendous' form during the after-match chatter which inevitably focused on football. We lamented the direction the game is taking but also confessed to an unshakable love for our respective teams. The Blue me and the Red Dave acknowledged that we shared something deep and, to us important, beneath all the banter and pre/post match wind ups.

We also shared over thirty years of competition and friendship in the Withington Quiz league. I remember his unmissable presence in the Red, as long ago as the 1980s (I think), hanging around the quiz machine and dominating the space and the people around him in his perfectly gentle way. Dave recognised an equal in Martin and they divided up the quiz machine routes between them (I think Martin may have even acted as chauffeur sometimes) to their mutual advantage. Martin got banned from fewer pubs however being somewhat quieter in his work.

In recent years as the Prodigals became a serious force in the league my heart would sink when I saw that Dave was in their team on the nights we played them. Not, of course, because I didn't enjoy his company but because I knew our chances of victory were substantially reduced with him on the opposing side. Win or lose I could only admire the breadth of Dave's knowledge and afterwards there was always his great company and unfailing good humour to enjoy.

On the way home last Wednesday Martin and I agreed that we hadn't seen him in such good form and apparent good health for several years. It's so strange to recall that conversation now.

I'm glad the Prodigals won the league last season and Dave finally got his hands on the trophy he'd competed for for so many years. He was always so generous in his praise of us when we were at the top and that meant a lot to us. And I'm glad that the Prodigals beat us on Wednesday and that that game would be Dave's last memory of the league which he graced for so long. It was a perfect WithQuiz evening and nobody could have imagined there wouldn't be another.

Thank you Dave from Barry, Martin, David, Mike, Antony, Simon and me. You made the league brighter and we were all better for knowing you. Goodbye friend, it was our great honour to share so many evenings and so much fun with you."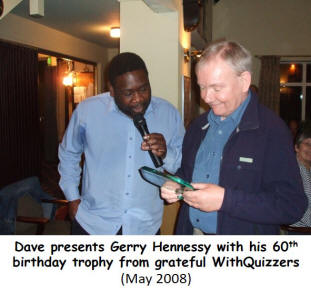 Graham's last memory of Dave was via this amusing Facebook posting that Dave himself made last Monday...
"What a disgrace that the lift wasn't working at the Palace Theatre last night. It was impossible for me to get access to my seat. The bastards upgraded it to a box and gave us free drink all night."
His good friend, Ashton, from the Albert team has sent this moving tribute...
"When I mentioned Dave in my comments to this week's matches, I little thought I'd be writing a tribute to him just a few days later.

I think the reception he got when he made his first appearance after his illness at the WithQuiz 40th anniversary event summed up the regard in which he was held by all of us. I'm glad he got to see that. Our little hobby is pretty inconsequential in the great scheme of things but it is competitive and we are probably all at our happiest when we win. Dave was almost unique to my mind, in that he seemed to take as much pleasure in other people's successes as his own - one of the last things he did was to write a note for the website about my minor achievement in York a couple of weeks ago. It seems that was typical of him - social media is awash with similar stories today. It seems that nearly everyone has a tale of a text/voicemail of congratulation or commiseration from him after their own particular triumph or disaster whether on a TV show or just a local quiz event. After my own inauspicious appearance on Brain of Britain was broadcast last year, I got home to find a lovely voicemail from him encouraging me to have another go as soon as I'm allowed to enter again. For his sake, I shall."
Dave had many good friends in the Stockport Quiz League as well as WithQuiz as this tribute from Mike Wagstaffe shows...
"I had already heard about Dave's death this afternoon, in the first instance on a City message board - not sure what he would have made of that! I am shocked by the news as, although he'd had his health problems over the last few years, he seemed to be on the mend and was in fine fettle when I last saw him at the Albert Club in late January.

I'd known Dave from the local quiz circuit since the late '80s and was actually at school with him a few years earlier, but with little awareness of him at the time as we were two or three years apart and 'the quiz thing' was yet to enter either of our lives. He was always a formidable quiz opponent but was scrupulously fair and always played the game in its true spirit. Outside of quizzing he was just a lovely, genuine bloke and I have yet to hear anyone with a bad word to say about him. Quizzing round these parts just isn't going to be the same without him, but rather than being too sad that he has gone we should reflect on how lucky we are that we were able to share the time that he was here. Barrie, and I, and a few of his other friends in the Stockport League, will be raising a glass to him this week in honour of a life well lived."
Rachael, captain of Compulsory Mantis Shrimp, who have been WithQuiz's closest rivals to Dave's Prodigals team over the past few seasons, has this touching eulogy...
"Just wanted to send you a quick e-mail as we learnt the terribly sad news about Dave Rainford. We can't quite believe it; I'm still in tears. He was truly one of the kindest, warmest, friendliest and most generous people I have ever met - as well as being an amazing quizzer and wonderful friend. He was ever the life and soul of the party and we always looked forward to playing The Prodigals because we got to spend the evening in his company, even if it invariably ended in us losing the quiz! We were so happy when Dave returned to WithQuiz after his long stay in hospital; I remember saying to the Shrimps that it just hadn't been the same without him; he really did light up every room he was in.

Adam has just observed that, of all the nice things that people are writing about Dave online, none of it is hyperbole - in fact, they probably don't do him justice. He is simply one of the loveliest people I have ever met and his loss will make quizzing, and the wider world, a sadder place.

Sending much love and deepest condolences to Dave's family."
Long time quizzing friend, Greg adds his own fond memories...
"I've known Dave since the early 1990s when I used to take part in the Monday night quiz at the Greyhound pub in Cheadle. He was a one-man team named Solo in those days - he didn't need anybody else. During his recent health scare I visited him a couple of times while he was recovering in Trafford General. On each occasion he asked me to bring him something to eat. On the second visit he asked for hot chicken, so I stopped off at the supermarket on the way and then watched him wash it down with a couple of cans of coke while we chatted.

After he was discharged I offered to give him a lift if he felt up to attending the WithQuiz 40th anniversary event. He accepted gladly because he didn't want to miss out on the celebrations with his quizzing buddies. Unfortunately, I wasn't able to manoeuvre him from his wheelchair into my car because he couldn't bend his legs. The multiple attempts to shoehorn him into the car, involving various positions and props, played out like a scene from a Laurel & Hardy sketch. He was obviously in a lot of pain but bore it all with his trademark good humour. In the end he had to phone for a taxi that was able to transport him in his wheelchair. At the end of the evening Danny and I followed the taxi that took him home and we somehow managed to ease him back into his room and onto his bed, resulting in another comical performance.

Farewell my friend; I raised a glass of your favourite San Miguel to you when I heard the sad news."
...and Chara John adds this recent memory...
"Dave Rainford's passing will give rise to many anecdotes and I could certainly add a few. The last time I played against Dave there was a general agreement that the paper wasn't up to much. Dave refused to join in the condemnation on the basis that setting papers is difficult and someone had put in a lot of effort to produce that paper.

RIP 'Tremendous Knowledge' Dave Rainford."
Mike H simply has this to add...
"Dave was a great guy, one of all our favourites. He will be very much missed. Much love and very deep condolences to his family, and of course to the Prodigals, and all his friends at WQ."
As Dave I'm sure would wish, let's remember him with a smile on our faces. The Father Megson article below was published on the WithQuiz site on 13/04/2005 just after Dave had won his Who Wants To Be a Millionaire prize...
MAGNUS DAVIDUS - SUMMA CUM LAUDE
Hoc semano Withquiz in conjunctione "Osservatore Romano" Davidum Rainfordium summa cum laude salutat. Ipse Davidus de facto rex mundi quizzorum cognentia generale et infantus terribilis leaguae tavernorum Didsburiensis et proximis villagiis plus plebian qui recenter multos spondulikos vicit in populario ITV ludo-spectaculo nomine Quis Possessor Millionis Spondulikis Esse Vult.
Davidus Magnus qui frequens imbiber est in populario sed superpricendo hostelio nomine "Leo Rubidus" nunc potest non solum affordare in omnis hipissime vino tavernis et discothequis Mancuniensis Stocportiensisque imbibere sed etiam regulenter procurare crustum grandum servatum cum condimento bisto (gustanter) et sacam patatas fritas devouratum dum ille in domum inebriatus ambulat media in nocte. Deo gratias tamen positivus est que successio suam personalitatem convivialiam non una iota alterabit.
"Nulla via, Jose", dixit eloquenter, sedente in suo novo constructato palacio media in Via Palatine - monstrous carbunculus in opinione Camilla nunc regina de facto angliae sed definiter non hiberniae.
"Amabo semper equaliter meos CCL mille spondulikos et meos amicos pauperos qui miserabiliter obligatos in squalore abjecte in saecula saeculorum subsistare....turdum durum, amici....sic transit in Gloria Hunniford!"
Relaxante et sippende pinam coladam duplicatam in sua sauna privata, describat Davidus momentum grandum quando ipse videtur in TV contra inquisitorem Chris Tarrantum (ex Tiswas quod programmum infantile in decado LXX erat). Necne ille nervosus erat?
"Ablative absoluter", responsit Davidus sotto voce familiaro, "especialiter in prima parte nomine 'Digitus Prontissime Primus'. Difficile est movere digitum et cerebellum in tandem in studio ITV. Facile est domo in sofa sed non in studio. Urgenter in lavatorium visitare desirabam!
"Finalter mihi successum est et Chris me embracevit fortis quale ursus. Bonum ovum est Chris - meus hero puerile - amabam olim diem saturni ante meridiam quando tempus Tiswas erat.
"Crusta custardi et canis nomine Spit! Brillianter!!! Atque amabam observare non solum Tiswas sed etiam Champion, Equus Mirabilis et Torchi Torchi, Puer Batterius.
"A beatus meus perditus juventus - sed odious AC Milano, bastardi. Sed digresso. Non iam nervosus media in ludo. Multi faciles questiones et Chris inquisitor gentilior quam Jitka est. Non potest conferrare sed potest:
I) Audienciam interrogare
Sed nota bene: non bona idea est hoc attemptare dum ludente in taverno nomine Cygnus Albus - multo periculo!
II) L:L
Hoc me totaliter confusavit - detesto anagramas
III) Amicum Interrogare Telephonato
Problemum unum: ludent mei optimi amici pro squado Parco Alberto qui normaliter in profundis recessis leaguae localae
"Dormit - hoc ergo definiter non bona idea est. Necesse est ipso solo rubicon transversare noteo gradualiter patternum emergentum in ludo id est omnia correcta responsa cum letteris alpha, beta, gamma vel delta commencare tendit. Ludum infantum nunc est.
"Estimo tandem que satis spondulikos habeo. Fatigus sum et incredibiliter non imbibo pintum lageris dum duas horas!! Dico: 'Finale responsum absoluter Chris. Ita missa est. Vale.'
"Tunc, spondulikis securis depositis in valiso sub jimjamis designo Winnie ille Pooh, decideo in domum ambulare. Non pluvit et ultimum omnibus transnocte de Londineo ad Mancunium multos spondulikos costat. Nulla via, Jose."
Bonum ovum es, Davide. Withquiz te salutat in saecula saeculorum.
Pater Megfilius
And finally as my own small 'condolences card' for Dave you will find my 'DR' picture quiz if you press here.