Update 16/06/2021:
More bad news I'm afraid - this time from Ivor...
"Hi Mike,

I have some sad news to relay. Our Historyman colleague Tim Dunningham died last week at home having been diagnosed with pancreatic cancer a few months before. He was 77 and is survived by Pat, four children and grandchildren.

Tim had been a player since 2002 and greatly enjoyed his Wednesday evenings despite his forthright opinions on some of the questions!

I am sure we will have more to say at a later time but Pat would like his quiz colleagues to know of his passing"
~~~~~~~~~~~~~~~~~~~~~~~~~~~~~~~~~~~~~~~~~~~~~~
Update 06/01/2021:
I have a very sad piece of news to pass on from my Opsimath colleague, Brian...
"Hi Mike,

Unfortunately Jitka has passed away. She suffered a major stroke late Sunday night (3/1), which left her unconscious. She didn't recover consciousness, and died peacefully yesterday evening (5/1).

Before Covid even started, Jitka said that she didn't want a funeral, but would prefer a party a few months later. In line with her wishes, I will arrange something when Covid restrictions permit (probably next year at this rate!).

Brian"
Jitka had been part of the Opsimaths team before ever I was recruited and, alongside Brian, has been integral to the team right from the start. She played (occasionally), QMed (loads), and vociferously and ferociously supported us (always) as we went from the depths of the WithQuiz league table in the 2000s to ascend its heights in the 2010s.
We will all miss her.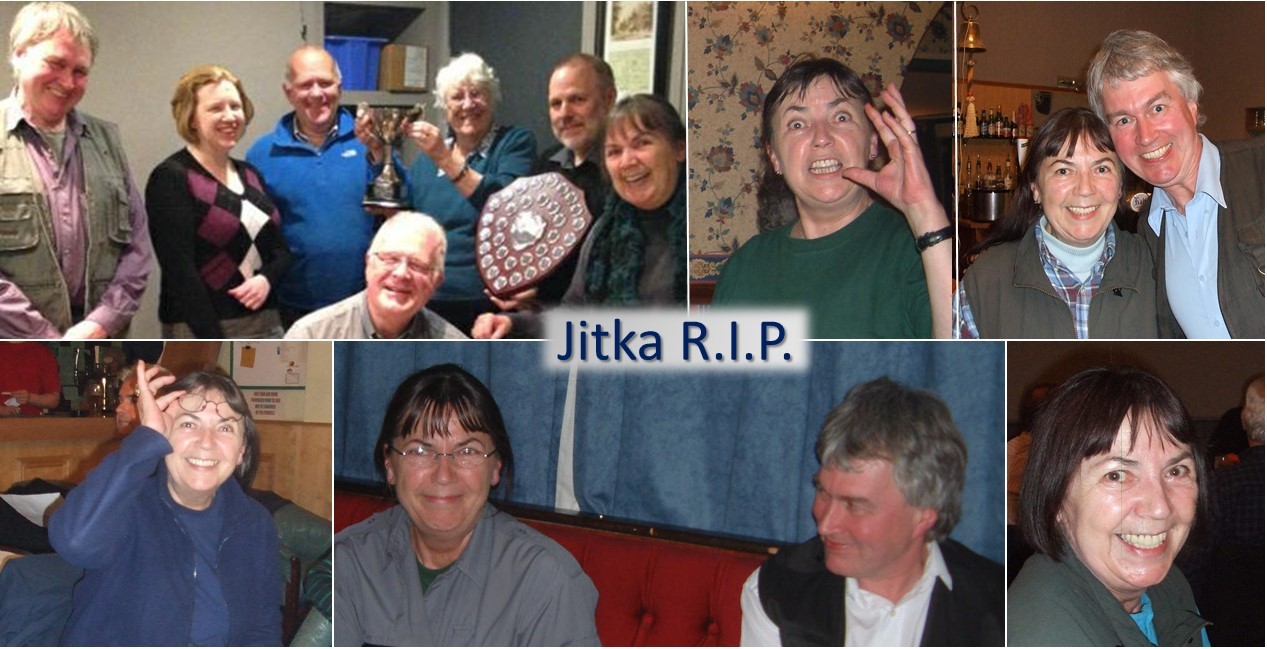 ~~~~~~~~~~~~~~~~~~~~~~~~~~~~~~~~~~~~~~~~~~~~~~
Update 26/10/2020:
Locked down over the past few months Prodigal Michael Taylor has completed and is now about to publish a major contribution to the story of slavery and its abolition - and as you'd expect it's far from a confirmation of the traditional cosy view of the British establishment leading the way in the righteous fight against the evils of slavery. Michael introduces the book thus...
Deprived of his weekly fix of trivia since the early spring, Prodigal Michael has been putting the finishing touches to his forthcoming book, which narrates the nineteenth-century fight between slaveholders and abolitionists over West Indian slavery...

The Interest: How the British Establishment Resisted the Abolition of Slavery (The Bodley Head)

It describes how, twenty years after the slave trade had been abolished by Wilberforce and his allies, a new generation of abolitionists took up the fight over slavery itself against the Tory government (Canning, Gladstone, Peel, Wellington, et al), the powerful West India Interest, and much of the national press - including The Times and the Spectator. It has been described as "a vital antidote to the Rees-Moggification of the national past" and it is released on 5 November.

P.S. The Prodigals now welcome any and all questions on colonial slavery for the coming season.
I've just ordered a copy and am looking forward to its arrival from Mr Amazon. Now you get ordering!
Cheers, MIKE
~~~~~~~~~~~~~~~~~~~~~~~~~~~~~~~~~~~~~~~~~~~~~~
Update 02/09/2020:
Prospects for resuming the WithQuiz competition in September/October (as anticipated in earlier posts to this page) appear to be all but gone with our usual quizzing venues either closed or unable to cater for the style of face-to-face quizzing that characterise our matches. Unless circumstances change considerably I believe it best to postpone talk of a resumption until after Christmas. Do let me know how you feel about this and I'd be very happy to organise a resumption as quickly as possible if circumstances change.
Cheers, MIKE
~~~~~~~~~~~~~~~~~~~~~~~~~~~~~~~~~~~~~~~~~~~~~~
Update 20/07/2020:
I have received an invitation from Dave Tilley (a friend who runs the Todmorden Quiz League in West Yorkshire) to enter teams for an online quiz league he is organizing to be played via Zoom.
Dave has already completed one online quiz league competition which he set up in March as soon as lockdown hit us. Armed with that experience he is now organising a second competition and spreading the net wider. He thinks (as do many) that getting back to quizzing in pubs and clubs may well be quite a few months away yet so he anticipates this new competition running for the rest of this year.
Knowing Dave the standard will be pretty high. His note (below) mentions Chasers, Mastermind competitors, Eggheads, etc.
I'm thinking of entering a team of Opsimaths, so it would be great to come up against some of you online in the coming weeks.
You will note from Dave's note that he needs to know who's registering to play by this Thursday (July 23rd).
Here's the relevant bit of Dave's note….
"I organised and have been running a virtual quiz league using Zoom since March with 11 teams and it has run rather well on Tuesday evenings and we've just finished our first season, with the next one starting on Tuesday 28th.
We start at nine and play a League match and a friendly. There's no charge to take part other than each team submits a set of questions for use by the other clubs on their week off. We have a selection of Eggheads, Chasers, Mastermind and Counterpoint winners in the teams and competition is keen. Home team should also provide a question master. I have my own full Zoom room so there is no requirement for anyone to have their own access.
We also have a Wednesday evening individual quiz and again that has produced some extremely exciting finals each week. We are happy to welcome any players from the League as well.
I'd be happy to invite any teams from the League to take part. Our aim is to play 'Home and Away' so it should take us to Christmas, when hopefully we should know when (or if) we can resume our normal quiz business. I know from Merseyside QL, it is probably not resume in the short term.
Ideally I need to know before this coming Thursday and we are happy to welcome teams or individuals who want to be part of a team (we can do the matchmaking!).
Anyone interested can contact me via mail tilsit@btinternet.com."
~~~~~~~~~~~~~~~~~~~~~~~~~~~~~~~~~~~~~~~~~~~~~~
Update 23/06/2020:
I do hope you are all safe and well and that we can get back to our weekly quizzing ways before too long (perhaps in August/September to complete the 2019/20 league competition).
During lockdown I've been involved in tackling a series of fiendishly difficult online picture quizzes. You're given a page of 20 pictures to identify and then group into 5 sets, each of 4 pictures, where there is an undeniable rationale for each grouping. There are often red herrings and blind alleys but only one satisfactory way of ending up with 5 groups of 4 with each link justified. It's a bit like the Only Connect Wall - only more tortuous, and in pictures rather than words. Usually there is an overarching link between the 5 groups which straps the linking rationales together. Beware you will need to do a fair bit of Googling!
It's been my turn to set this week so I thought I'd share my efforts on the website. Beware it can take quite a lot of puzzling - I often take the whole week - off and on - to get to a viable solution (that is if I don't give up totally stumped). Here's the quiz I've devised - and there is indeed a very specific overarching link to the set of 5 connected groups on this occasion.
Answers on request. Cheers, MIKE
~~~~~~~~~~~~~~~~~~~~~~~~~~~~~~~~~~~~~~~~~~~~~~
Update 16/04/2020:
This morning The Times published an Obituary for Dave. Click here to view.
~~~~~~~~~~~~~~~~~~~~~~~~~~~~~~~~~~~~~~~~~~~~~~
Quizzing in Quarantine
During this period of enforced lay-off I am whiling away some of my spare hours adding a large number of quiz rounds from my archive of Albert Club quizzes to this website (go to 'Question Papers' and scroll down to the list of Albert Club rounds - organised by type of round).
These Club quizzes are significantly different from WithQuiz question papers relying more on cryptic connections and lateral thinking to achieve the answers. They might not appeal to all but they can be great fun in a social quizzing context where much of the joy is got from 'conferring and deducing' rather than just 'knowing'. Anyway do have a look and feedback any reactions via the message-board.
A number of people have wondered if we can host some sort of online quiz competition during these days of social distancing. I'm certainly willing to put the website at the service of any such endeavour - so if you want to organise something and use of the website would help just let me know.
MIKE