KFD beat History Men
Comfortable first outing for KFD as they beat their 'Nemesis' team

Kieran's column returns...
What were you doing on March 20th 2019? No idea? Can't remember? Well here's some memory joggers: Theresa May was Prime Minister, Donald Trump was US President and leading Italian anti-vax politician Massimiliano Fedriga was hospitalized with Chicken Pox. Still no bells ringing? Well unfortunately it seems they haven't been tolling for Massimiliano either since he seems to have come through the last 31 months, COVID and all, totally unscathed. "O, death where is thy sting?" Seriously where?
On March 20th 2019 Barry, Martin, David and I won a quiz league match against the Pigs. And then that didn't happen again for 938 days. Until tonight. A Lowly Grail victory over the Railway Fliers the November before last was the sole triumph for the no longer awesome foursome in all that time.
---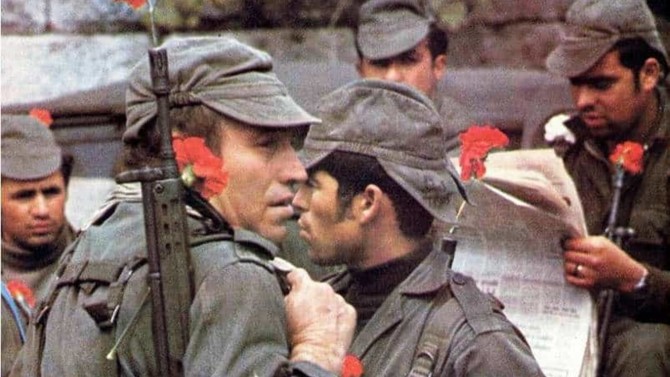 ...and hostilities just evaporated
(R1/Q1)
---
Tonight that all changed. As has the Griffin. It now boasts a normally heated front room (for the moment at least), a knockout juke box which instantly filled the gap left by the cast-aside, blessed, Albert-ish and psychotically mismatched soft furnishings. Tonight it also hosted Bogota Bob, sporting a demure, non-statement cap and recently returned from the Costa del Zero Tax. Plus ça change baby, plus ça change. It's so good to have him back in his rightful place as the doyen of south Manchester quizmasters. In all seriousness, to have Barry, David and Bob back, healthy and enjoying Wednesday evening quizzes again is fantastic.
And we had the History Men as our first opponents of the new season. Pied piper Ivor, Vanessa, David and Anne of the not quite thousand days. Anne got her groove on early, barracking David for his timidity in not going for a two on the first question of the evening and later hitting Ivor with the punchy "listen to the f***ing question." It's good to have her back too. Barry asked if anyone had an Anne bingo card and then constructed one during the remainder of the quiz. He had a full house by the end.
Winning the toss and going first first, the History Men got the rough end of the deal with 6 of the 7 unanswereds falling their way and that pretty much accounted for our victory margin.
So we're up and running with the unaccustomed glow of a win and an unremarkable third in the table behind early pace-setters the Albert who are our guests for next week's game. The classic four having been successfully reunited clearly this couldn't be allowed to continue and so David is disappearing to the Orkneys for the next couple of weeks. During the hiatus young Liam® has relocated to the west bank of the Irwell and he's now living in the Quays but we hope he's still going to play for us from time to time. Next week David's place will hopefully be taken by my son and noted Frankie Boyle impersonator even younger Thomas. Thomas played once in December 2019 in a close win over the Pigs in which he was instrumental so that's promising. And the following week if all goes well we'll have a multi garlanded WithQuiz alumnus making his first appearance for more than a decade. We did things differently then and we've certainly done them differently in the intervening years but hopefully he'll sprinkle a little of the old stardust our way.
Good to be back and it's fun being able to write this sort of nonsense again.
---

and Ivor's view?...
Things at last are back to normal: we play KFD, who had an unchanged team 18 months on, and we lose by a healthy margin. There are some changes, however. The Griffin appears to have been repainted and the ambient temperature reduced from tropical to subtropical. There is still change out of £10 for three pints though Mike H found the bitter awful.
We won the toss and unfortunately ended up playing first. Although we got 14 twos to KFD's 12 we also had 6 of the 7 'unanswered' questions. Does this mean we had easier questions or harder questions compared with KFD (at least for questions people knew the answer to)? It would take a Stato of better prowess than me to reach an answer to that question. However the bottom line is we lost and if we were better and knew the answers we would have won.
Our new strategy of being cautious and not blurting at least in the first half led to points leakage from the very first question. David decided to confer on whether Carnation was the common connection between a revolution and evaporated milk. "It's hardly going to be Co-op is it?" was Anne's sympathetic rejoinder. David found rearranging intestinal organs in the right order difficult given that his own organs are probably arranged differently. I had a brain freeze on the East India Company, Vanessa confused Ada Lovelace with Mary Shelley, and I overruled Vanessa's Small Films for Smallwood Films. The strategy of permitting blurts in desperate situations towards the end also yielded no lucky escapes. My 'Tarka the Otter' as the eponymous animal in the last question was somewhat wide of the correct answer 'Moby Dick'. How sad Tim is no longer with us as there would certainly have been a few effs directed at his own team.
---