Opsimaths beat History Men
A good win for the home side who still have an eye on a top 4 finish

Mike Bath was on hand...
A sombre atmosphere at the start with all us, including Jeremy our borrowed QM, reminiscing about Dave. I say 'all of us' but in fact there were only 6 players, since Brian is opting out for the rest of the season with Jitka in the 'Coronavirus most vulnerable' category, and Ivor was in quarantine having chosen the last few days for a short holiday break in Florence (see below for his report from the front line). We opted to play with the missing seat in both teams being taken in turn by one of the 3 players and it worked fine.
As the evening wore on the mood lightened assisted by Jeremy who was able to fill us in on the process behind the paper's setting as well as embroider some of the answers with extra gobbets of information. Nick was on imperious form and in his wake the Opsimaths coasted to a welcome victory after quite a few torrid weeks at the quiz front.
We were all glad to be quizzing and enjoying each other's company but well aware that there are a lot more important things in life.
---
So good Watford employed him twice
(R6/Q5)
---

Isolation doesn't stop Ivor the Intrepid...
Sorry to have missed the quiz tonight. Alison and I arrived back from a 'Saturday to Wednesday' city break in Florence and it was not the most successful holiday we have had. All was open on Saturday night but on Sunday the museums, and even the churches, closed throughout Italy. The northern provinces (including Florence, even though it is quite far down Italy) were declared a red zone, so it rather put paid to the planned trip up the Cathedral dome. The army turned out (as if we Brits would have stormed the 463 steps to the top!).
Otherwise the weather was pleasant, the shops and eating establishments remained open and the locals got on with life. Florentines are not usually fazed by anything. In 1348 Florence was the second biggest city in Italy (after Milan) and half the population died in the space of six weeks from the Black Death. Within a decade or two it was the cultural centre of the Renaissance (it probably helped that the people who died left their money to those still alive!).
---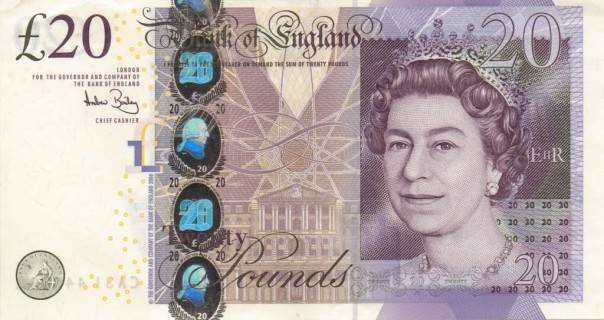 Eurion constellation; small yellow rings on left hand side between '£20' and Her Maj
(R7/Q8)
---
The tourist trade (in 2020) was obviously already affected by concerns about Covid19 with only nine rooms of our 55 room hotel occupied. On Monday night we ate in a trattoria that had just one other couple eating, honeymooners from Australia. On Tuesday the whole of Italy became a red zone. We only learned from Sky News (at 17.40) that this meant all eating establishments, bars and shops closed at 18.00 so our last meal was some hurriedly purchased crisps and Snickers Bars, and a bottle of Prosecco (mercifully from a supermarket and not the mini-bar). As we left the store the shutters came down. We did worry if we would get home.
---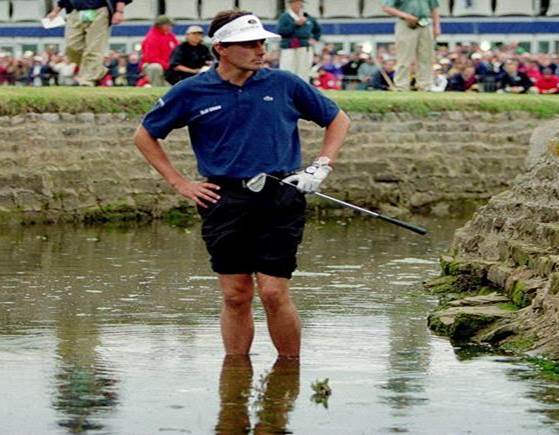 Barry Burn: One in a Hole
(R8/Q5)
---
Fortunately the trains were still running on Wednesday morning and we managed to get the Easyjet from Pisa. It might well be one of the last flights out of Italy for some time. Good old Ryanair and the nation's favourite airline, BA, had already shown their customer service qualities by cancelling all flights. Some of you might think this is possibly a good idea to keep the virus out, but it is already here and whether the UK does any better than the Northern Italians (whose medical services and intensive care facilities are excellent) remains to be seen. At the time of writing Italy has had 12,000 cases and over 800 deaths - only three weeks ago they had the same number as the UK has now. It is certainly ironic that one of the early UK cases is the Health Minister. However our Public Health response has been excellent and scientifically and medically evidence-based; Boris does seem to be listening. I can only reiterate James's advice last week of self-isolation (if you have a respiratory infection), hand-washing, cough/secretion control, social distancing (if you have other risk factors), and just generally looking out for each other. We are all in this together. Meanwhile I too have to follow latest advice and self-isolate for 14 days (though I remain well) and unless national advice changes I will miss the quiz next week too (and work except for work at home).
---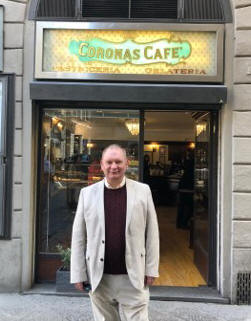 Ivor goes viral in Florence
---